'Tis the season of giving after all…….. So given the opportunity, would you add in a 'give back' element to your Christmas party this year? Chances are it hasn't crossed your mind before – don't feel bad – you're not alone! That's why we're here to disrupt your thinking, challenge the norm and make your Christmas party totally awesome, by adding a few simple twists to turn it into a Charity Christmas Party!
Not only is it the right thing to do, but it's also a winner for making sure everyone bothers to turn up, no one moans and everyone totally gets into the Christmas spirit (and we're not talking of the alcoholic kind – although that's entirely optional of course!).
Here's our guide to affordable and simple ways to host a Charity Christmas Party, or as we call it "a Christmas Party with Purpose" this year!
Step 1: Engage the troops in your Charity Christmas Party!
Ask the team if they would like to support a charity at their Christmas party this year. Who in all honesty is going to say no?!
So now they're interested, and planning the party feels much less like a chore and far more like "yes, I know I'm an awesome human being for thinking up this who charity idea". You may even find you get offers of help coming in now. Who could resist a higher purpose, especially at Christmas 🙂
Step 2. Choosing your Charity
Your company may already have a charity that they officially support, but if not, open it up to the team! While they're interested and engaged with the idea, find out what kind of charity they would really love to support – this is hugely engaging and can shape what you choose to do. It might be a huddle to discuss, it might be a doodle poll, it might be fun 'sales' pitches by passionate individuals!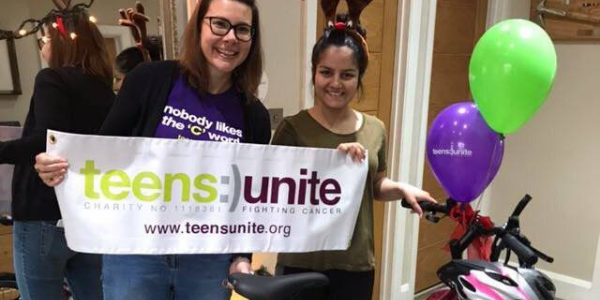 Step 3. Agree on a date for your Charity Christmas Party!
Be early! The earlier you agree on a date for your Christmas Party, the more availability and options you will have on venue and choice of activity. This give you a much better opportunity to build in your 'giving' element!
Step 4. Choose a (give back) Venue
Now this is the first opportunity you have to 'give back'! Where do you normally go for your Christmas party? Your nearest hotel? The pub on the corner? The local Whetherspoons? The bowling alley? All great, and you should absolutely support businesses local to you, but how about this for an idea at this special time of year……
Have you checked out your local Charity and Social Enterprise Venues? You might just be surprised by what you find. There are some incredibly inspiring venues out there. There are also some average venues too (begging for your Christmas touch!) – something for every budget. The best bit however? whichever you choose, your venue fee is directly supporting a valuable charity or community endeavour.
Here are 2 inspiring social enterprise venues for your Christmas Party – to get you thinking! – please let us know of any you would recommend!
Based right on the river Thames, within the beautiful Pimlico Gardens – now how's that for an impressive location?!  But it's more than just an impressive location. Host your Christmas Party here and you'll be supporting the charity to provide experiences and opportunities for young people aiding personal and social development, through participating in water-sports. Winner!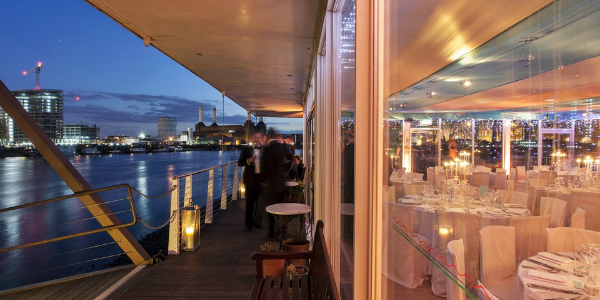 Book this venue, and you'll be supporting the Creative Youth Network, a charity supporting young people, by investing time in them and tailoring their support to each person's needs, from volunteering opportunities within the organisation through to advice and creative opportunities. In fact – it was their young people that helped to create the venue space and facilitates. A fantastic way to support and engage the younger generation right?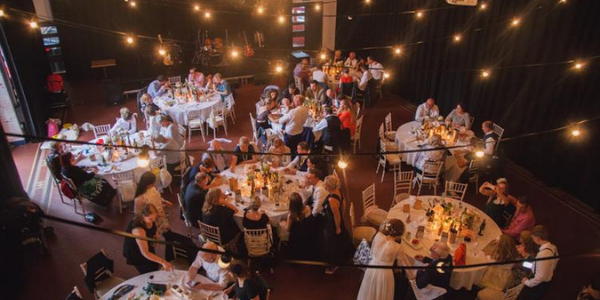 Step 5. Build in some fun(d)-raising! Turning your Christmas Party into a Charity Christmas Party
That's right, let's put the fun into fundraising! This is the really exciting part! There are so many ways you can build a fun activity or challenge into your party. You're adding to your party experience AND happily supporting a great cause. Here are our ideas to make your Christmas Party go with a very big charitable swing!
Idea 1: Challenge Santa!
Hire a bike or wheelchair race simulator for the evening! Get the boss to dress up as Santa and compete for the quickest 'Santa Dash' on the simulator – Who can deliver all the presents the quickest? Can you beat Santa at her or his own game?!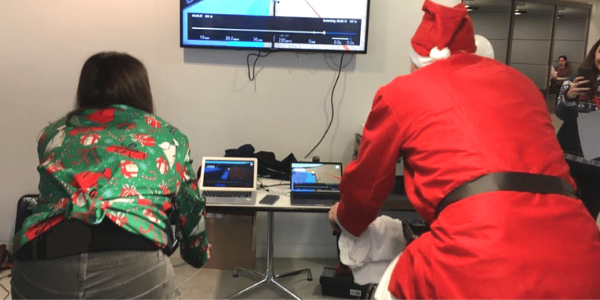 How does it raise money?
Well that's up to you? You can charge a fee to  compete in the challenge? Or perhaps your company wants to donate ££ for every mile cycled that night?!
A fantastic, high energy  buzz for any Christmas Party!
Read more about our bike and wheelchair simulators  on our CSR Event Services page, here!
Idea 2: Get OnBoard this Christmas!
Use some of your party time to get creative, artworking and building awesome skateboards to give to children this Christmas! You'll be creating Christmas gifts for children in care, supported by Barnardo's, or a local charity of your choice.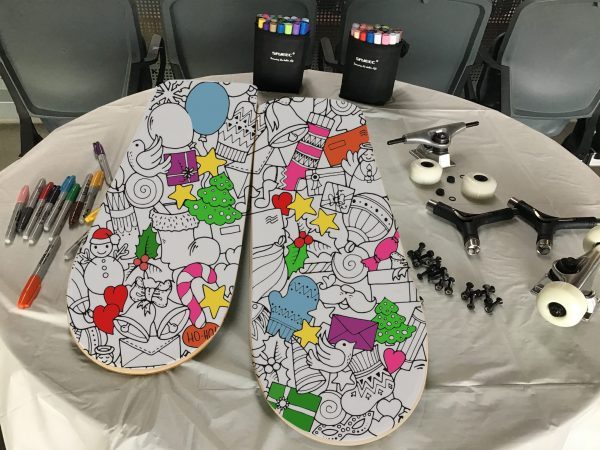 We'll deliver you a complete Christmas themed skateboard kit, including facilitation notes and Christmas themed fun challenges to incorporate!  You can easily 'self [or elf!] run' this creative Christmas activity, wherever you're having your drinks! Spend a couple of hours of festive fun with your team, while you artwork our bespoke Christmas skate decks for gifts this Christmas. :o)
Read more about getting "OnBoard" here!
Idea 3: Smoothy Does it!
The only question really is, are we making mocktails or cocktails?!
Hire our smoothy bikes for your Christmas Party and get creative! Who will create the winning blend, to quench the thirst of the Christmas party revellers? There are so many ways to incorporate this fun activity into your Christmas Party. Who needs a regular bar, when there is this much fun to be had?!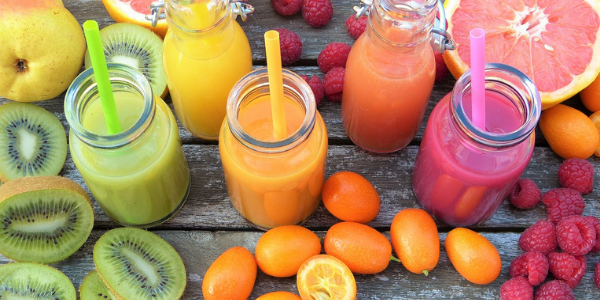 How does it raise money?
Well, how about your company donate money for every mile cycled during the night?
We'd also recommend charging for your awesome Christmas drinks – this is a bar, after all! With all proceeds going to a very deserving local charity! Alternatively, you might like to team up with a local hostel or homeless shelter and see if they would like your freshly made smoothies for the people they support?
Idea 4: Buy one Give one Free….
Pay for your own Christmas Party and Gift a Christmas Party to Charity! We work a lot with the charity Single Homeless Project, who would love you to fund them to host their own Christmas party for the care system leavers they are currently supporting! Get in touch now, to help them start planning their own fun!
What Next?
So that's a 'to do list', 4 Christmas party ideas, plus a venue suggestion to get you started. We would love to hear your own ideas too! Drop us a line at
hello@o3e.co.uk
or post on social media #christmaspartywithpurpose #o3engage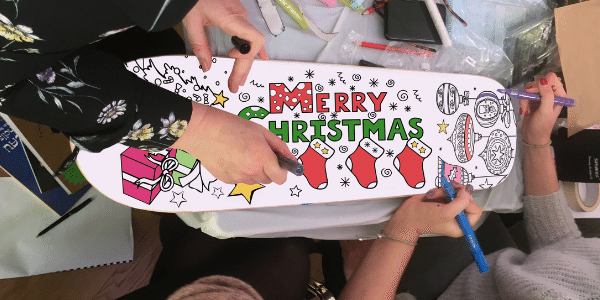 And of course, if you need any help in arranging your Christmas Party with Purpose, please check out our Christmas Party page, and get in touch at hello@o3e.co.uk