Charity
Christmas Party
with Purpose

If you're going to have a Christmas Party this year, then give it some PURPOSE! Here's our list of festive ideas to add purpose and fun to your Charity Christmas Party!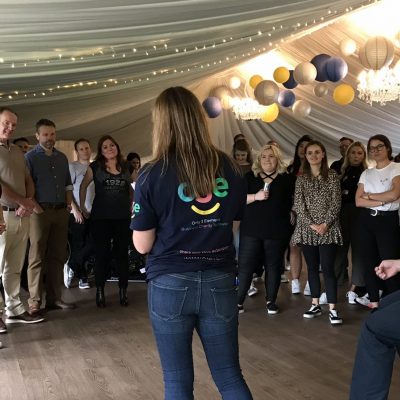 Great Philanthropic Christmas Challenge
Crystal Maze meets old school Christmas party with lots of charity giving!
In our Christmas charity version of this popular crystal maze style event, you and your team will compete in retro Christmas party game challenges, earning booty for charity!
Typical Christmas challenges include: Guess what time the turkey has to go in? Family negotiations, our Christmas Film Quiz, a sleigh race! (on our simulator!) – who can deliver the most gifts! And much more!
Lots of lots of festive fun for your party, and at the end…..? Your challenges will have earned you vital Christmas gifts for charity. This year, we've partnered with Single Homeless Project in London, to create Christmas Care packs for the people they support in their hostels.
Get OnBoard This Christmas
Add some creativity to your Christmas Party! We'll bring along our skateboard decks, paint pens, templates, and Christmas games. You bring along the manpower and creative team talent to win our festive challenges and turn our skateboards into awesome Christmas presents for young carers, children living in care or from disadvantaged areas.
We can run this event for you, or you can 'do it yourself' with our DIY OnBoard kit! Adding purpose to any Christmas party!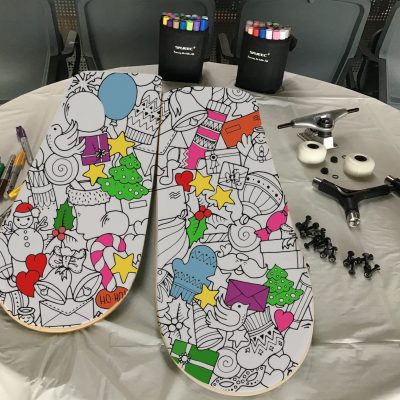 ``It was a privilege to be involved in something like this`` Northern Trust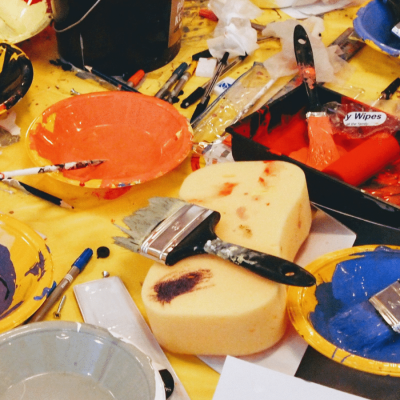 Christmas Funky Furniture Upcycling
Barnardo's are in desperate need of children's furniture. After the successful launch of our furniture upcycling event for them this summer, we want to create more funky, upcycled furniture for Christmas gifts this year.  Turn your Christmas party into a hive of creativity and purpose, upcycling our charity shop bargains and turning them into truly fun and exciting pieces of furniture for the children Barnardo's support. Brighten up some bedrooms this Christmas!
Christmas Charity Bike Build
We're back with our annual Christmas #giftabike campaign. Book a Charity Bike Build for your Christmas party, and you'll not only get fantastic festive themed team games to compete in, you'll also learn how to build a bike together AND get to donate your bikes to deserving children as Christmas presents this year! Check out Northern Trust's video!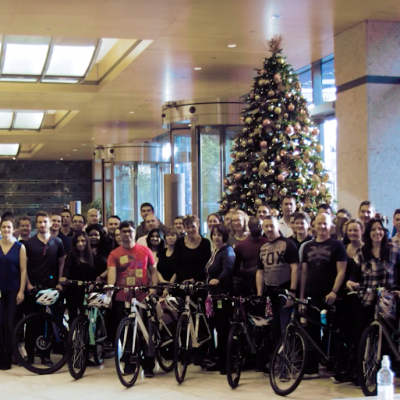 ``I remember the greatest present I had when I was growing up was a bike, and to be able to be part of that special moment with another child in the local community, is a really great gift for all of us, so I'm very pleased to be involved." John Davie, CFO, EMEA, Northern Trust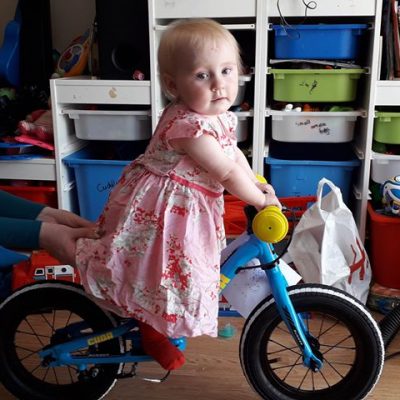 Christmas Scoot Up
Charity Bike Build for Little Legs! Take on our Christmas themed Scoot up, taking on fun festive games and building scooters and balance bikes for young children supported by the nation-wide charity Home-Start. You'll be creating awesome Christmas gifts and making wishes come true.
Christmas Performance Wheelchair Challenge
We've pimped our wheelchair simulator with Sleigh Rails and we've added some festive fun games to our Sports wheelchair team building challenge, to create a fantastic Christmas themed, giving event for you. Compete in Christmas themed challenges over 2-3 hours, earning the parts you'll need to make your sport's wheelchairs. We'll then donate your finished chairs to grass roots disability sports clubs in time for Christmas.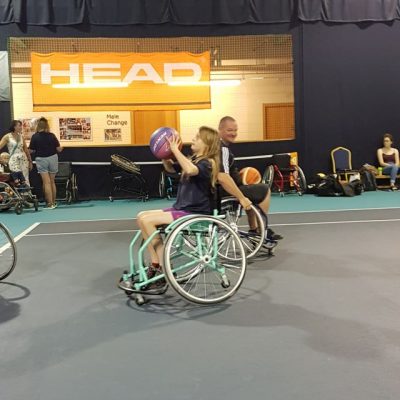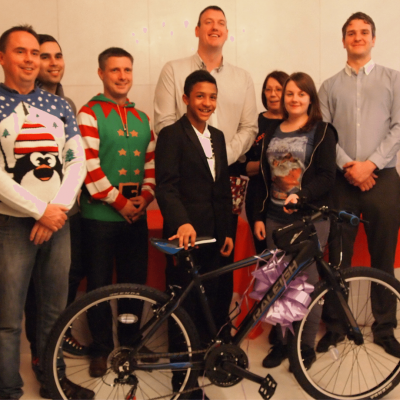 Feel Good Christmas Party Ideas
Just having drinks this Christmas? You don't have to miss out on all the fun! You can still add purpose and festive fun to your gathering, with our lower cost ideas….. Check out our Guide to throwing a Charity Christmas Party with Purpose!
What will your Christmas Party legacy be?