Our CSR Team Building Impact Statement (2019, half year)
It is with great pleasure and huge smiles on our faces, that we publish our interim CSR Team Building Impact Statement for 2019.
Much like the team in the picture, we're celebrating! With your help, our CSR team building events have in 2019 (so far….) (drum roll please….!) built and donated….
370 skateboards for children and social inclusion charities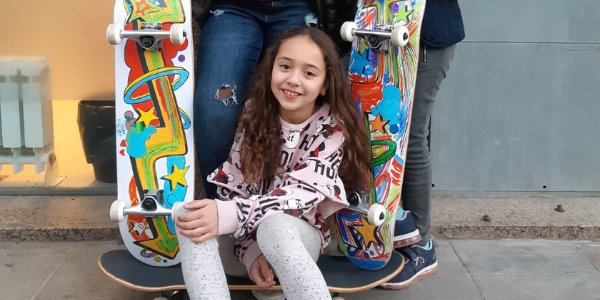 These funky skateboard decks are now supporting children in Spain, Portugal, Sweden and of course, right across the UK. They're in young carers clubs helping to foster friendships and provide opportunities for fun and down-time. They're in after school clubs in deprived areas. They're with children in care, providing fun and exercise. They're making a positive difference to the lives of children and young people.
181 bikes for many, many different charities, including….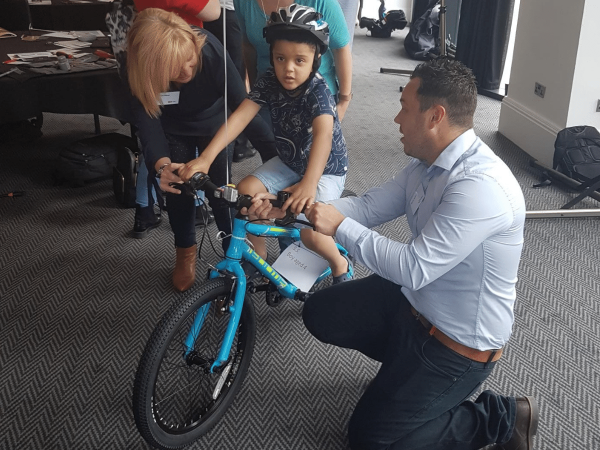 Single Homeless Project , where the bikes are being used for exercise and recreational purposes, as well as for commuting to interviews and work placements. You can hear what Tara Carty, Corporate Fundraiser at SHP has to say in our latest Charity Bike Build film.
Home-Start Herts, where the bikes have gone to young families in need of extra support, due to many different circumstances, such as financial hardship,  bereavement, or living with disabilities.
Teens Unite Fighting Cancer, where the bikes are always extremely popular and hugely important in helping the young people with their recuperation and wellbeing.
Access Sport, where the bikes have been in many ways, including their latest projects to build positive community clubs for refugees and to support women in deprived areas in learning how to ride a bike – building confidence, friendship and freedom.
Barnardo's who distribute our bikes to the children in care that they support. A wonderful gift and the opportunity of childhood fun, freedom and exercise – an important tool in supporting positive mental and physical health.
8 tandem bikes for visually impaired riders
Supported by Royal National Institute for the Blind, these tandem bikes will support visually impaired people to safely access cycling and all the benefits that cycling brings, through exercise and wellbeing.
10 balance bikes and 10 scooters for young children, through our brand new event 'Scoot Up'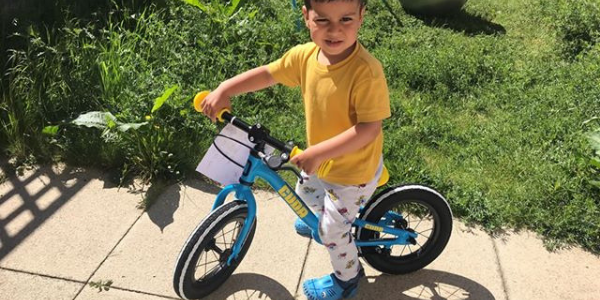 Supported by Home-Start Slough, and as part of their Health and Wellbeing Campaign, these balance bikes and scooters are bringing joy and opportunities to have fun and learn new skills, to the families supported by Home-Start.
Our 'Scoot-Up' Challenge, which sees balance bikes and scooters built for younger children, was specifically created to meet the need that Home-Start Slough had. Working with pre-school families, the bigger bikes we make through our Charity Bike Build, aren't always suitable, so Scoot up was the perfect solution.
15 fun houses, brightening children's centres and hospices across the UK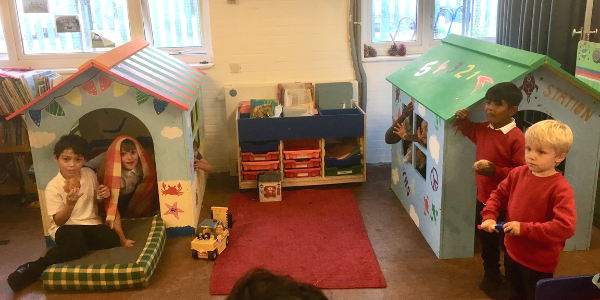 Our wonderful bright and cheery fun houses have new homes in charities such as The Children's Trust, who support children with brain injuries, as well as their families. We were even able to make a bespoke fun house for them, large enough for their children who use powered wheelchairs! The fun houses are also used by siblings, as fun places to make friends and play.
12 chemo care packs for teenagers
Through our Great Philanthropic Challenge and working with the brilliant charity @teensunitefightingcancer, we were able to create 12 chemo care packs to gift to teenagers facing a difficult time. The care packs included lots of practical kit for teenagers staying in hospital, including the all important power pack for charging their phones! Even the just the act of receiving a gift, when you're experience a tough time, is an important one. We hope our care packs brightened days and made the hospital stay at least a little more comfortable.
22 Sports Wheelchairs for grass roots inclusive sports clubs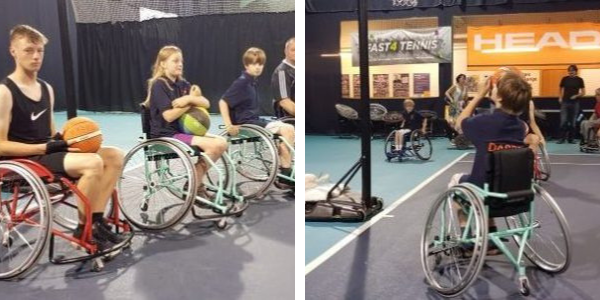 In one event alone, we built 13 wheelchairs which went directly from the event to Nova Sport and Coaching near Bath. They are now avidly used by an inclusive wheelchair basketball team there. The beauty of an inclusive team is that everybody can compete on a level playing field – a truly inclusive opportunity. You can watch this event in action here!
We would like to thank each and every one of our clients who have made this possible and for making the decision to create a lasting legacy from their team building event, through the simple idea of CSR Team Building.
We would also like to thank the many charities that work with us, supporting our events, coming along and also bringing us new ideas along the way!
We're looking forward to seeing what we can achieve together throughout the rest of 2019, and what our final 2019 CSR Team Building Impact Statement will be!