Written by Clare Childs, Sports Range manager at Motivation. An incredible Charity who supply the sports wheelchairs for all of our Performance Wheelchair Challenges:
We've teamed up with o3e, who organise corporate and team-building activities, to support their venture – the Sports Wheelchair Build Challenge!
It's a fun, energetic and very hands-on activity that sees teams compete to assemble a Motivation sports wheelchair. And once constructed the teams are able to use their newly assembled wheelchair to participate in races and games!
Motivation supplies the wheelchairs and o3e organises the whole event, including working with companies and organisations to source venues, provide instructions and facilitate the whole day.
Our efforts will benefit disabled people throughout the UK by donating all of the sports 
wheelchairs after our team building day.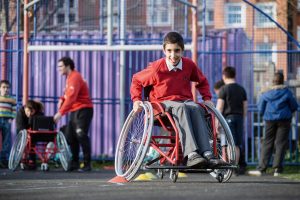 Since teaming up with o3e, teams have helped to assemble 148 Multisport wheelchairs (now 153) and 11 Flying Starts. All of them donated to help more people access grassroots sports. And what's more because o3e are purchasing the wheelchairs from us, all profits from the sales are being directed towards our wider charitable project work in developing countries – making it a win-win situation!
A great afternoon enjoyed by all the team, some people were nervous beforehand but it was so well organised and run that everyone was involved and felt a part of the activity. People felt inspired and at the end of our team day we had created something that was going to have a lasting impact. We definitely recommend. Ocado
If you work for a company or organisation that would like to step up for the Sports Wheelchair Build Challenge get in touch with us at fundraising@motivation.org.uk or you can speak to o3e directly about the options available to you.
You can read the original blog over on Motivation's website here
What to receive more articles like this? Please sign up below;