Another incredible year of CSR team building! We couldn't be more grateful to all of our clients, who continue to come back to us over and over again. In fact, so far in 2019, 44% of our events have been from returning clients! What an impact!
This just shows, how once you've taken on a CSR team building challenge, you totally 'get it'. It's hard to go back to a regular team building event, once you've encountered the higher engagement and energy your team experiences through working together to deliver something awesome for charity.
So how does a typical CSR team building journey begin?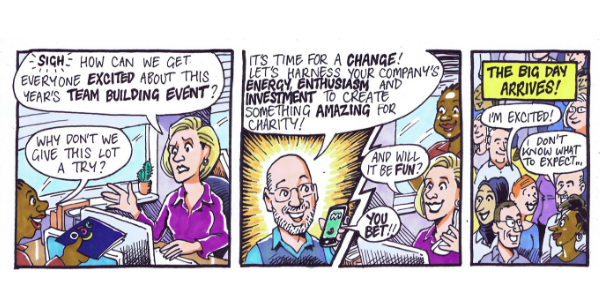 Once you've chosen from one of our many different CSR team building challenges, you have started your own team's impact and legacy story!
Will you team build sports wheelchairs to start up a new grass roots inclusive basketball team? Enabling 2 brothers  (one able bodied, one in a wheelchair) to play basketball together on a level playing field, regardless of ability. (True story) We built 53 of these sport's wheelchairs last year – that's 53 opportunities to create a true story like this.
Or perhaps scooters and balance bikes for young children in deprived areas, so they can have fun and get exercise? Enabling one young person, whose family doesn't have a car and has a long walk to school, to finally get to school on time and to feel awesome! (True story)
Or maybe you've decided to take on a skateboarding challenge, and will support a social inclusion club for young adults experiencing mental health challenges, or young carers to have fun with other children in the same situation (True story)
The day of your charity team building event arrives…
What can you expect from your CSR team building event?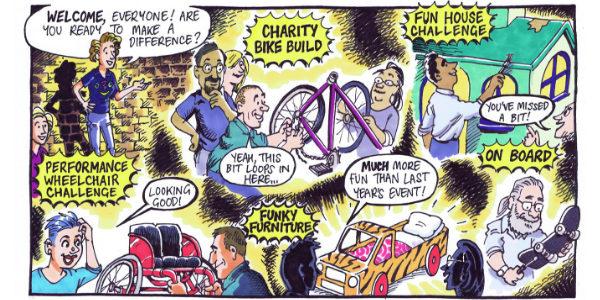 Well, you can expect a lot….. fun, purpose, energy, team synergy, drive, empathy and much more.
Incorporating CSR into your team building, naturally elevates your team's connection to the task, to working together, to delivering – because ultimately it's about something much bigger – delivering something potentially life changing at the end.
Oh, and it makes you look good too…. remember, great CSR leads to highly engaged and retained employees.*
And once your CSR team building event ends?
Well, you and your team bounce out of the event, high on feel good factor! You'll be bonded, collaborative and ready to work brilliantly together once you're back in the office – you've probably arranged another team event social already……. But of course, that's not really the end….
You'll probably want to relive the event and tell everyone and anyone who will listen. These are the kind of events that really do create that kind of energy!
You'll probably want to stay in touch with the charity you have chosen to support through your event – you've probably arranged a fundraiser or volunteering day with them, before you've even left the room! (True story – we see it happen A LOT!
You'll probably be asking an o3e crew member what other CSR team building events you could do next time (Another true story).
But, most importantly the impact your event has on the children and adults receiving the bikes, wheelchairs, fun houses, skateboards etc, that you built together at your event – well, that impact – it carries on for a long time.
What will your team's legacy be?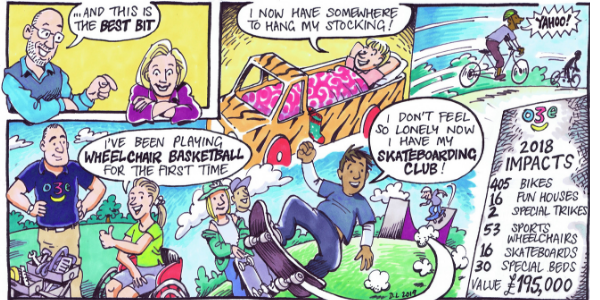 * International Journal of Economics, Commerce and Management;  THE RELATIONSHIP OF CORPORATE SOCIAL RESPONSIBILITY AND EMPLOYEE RETENTION, by Wong Wen and Leow Chee Seng. Oct  2016