Unique & purposeful CSR Team Building Charity Challenges come to the Midlands
BCorp & Leading Charity Team Building business moves into the Midlands
Birmingham, West Midlands, Staffordshire, Cheshire, Warwickshire and beyond
CSR Team Building Midlands and Birmingham. Here at o3e, we have been delivering purposeful team building events for over 11 years. and already a market leader in CSR Team Building in the South.  So, this year o3e has expanded its operations in the UK, with a new North Midlands Event Hub – providing our much sort after Charity Challenges, in the Midlands & North
Charity Team Challenges provides a great solution for organisations, to enable employees to network, as well as, develop their soft skills and build relationships whilst making a difference.  o3e also understands the problems many people are facing at this present moment and supporting families through the efforts of businesses can make a massive difference to those who need it most.
Our new Event Hub in the North Midlands enables us to provide cost effective solutions to Birmingham and the rest of the Midlands, reducing travel and environmental impact.  The Library of Birmingham, Hilton St Georges Park, The Belfry Hotel, Alton Towers and Walton Hall are to name a few of the great venues our team challenges have taken place.
At o3e we are on a journey!
Come with us on that journey and help make the world a better place for both people and the environment
Performance Wheelchair Challenge
A fast paced CSR team building challenge that puts participants at the heart of disability sport. Teams compete in engaging team challenges against each other to acquire the essential parts to piece together their Sports Wheelchair Kit. The unique challenges touch on disabled sport including three Paralympic wheelchair events!
o3e Sports' Wheelchairs are a fantastic way to support grassroots disability sports and help develop the paralympians of the future. All the Wheelchairs built during the Charity Team Building Challenge will be donated to disability charities.
It's much more than Team Building
100% of o3e's CSR team building challenges are focussed on giving back to Charity. That makes us completely unique!
"I've worked in many sectors over the years, but I can honestly say that the outcomes we provide through our Charity Challenges, is the most rewarding range of products I've ever worked on.   As I've gotten older, and since the pandemic, I've especially developed a passion to work in a sector that truly helps those in need, and increases their opportunities to grow and flourish.
Now more than ever, bringing your teams together, to re-connect, build better working relationships, improve communication, I know is high on the agenda. o3e challenges enable you to do all this, whilst creating a positive impact on local communities.
As a regular team leader, I not only see, the impact our challenges have on employees, the enthusiasm they show in doing something outside of the box, but the sense of pride they all show, knowing they have made a difference.
In addition and perhaps the most fulfilling aspect for me, is that I get to deliver your donations to charity after your event.  I've seen first hand the impact this has on the recipients, and how grateful they are that there are organisations like us and businesses like you out there, that really believe in the power of  giving, and they really do appreciate it."
– Paula Craven, Sales & Product Manager at O3e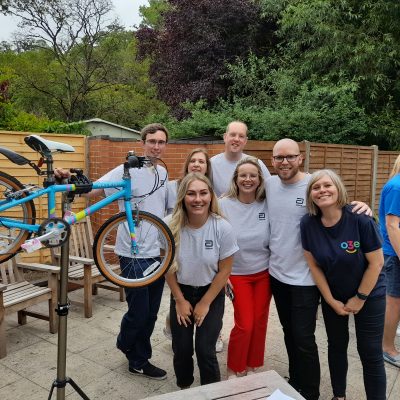 To find out more contact our Events Project Manager Paula Craven
Give your time out of the office purpose!
For ideas and details of our Charity Team Building Challenges,  for a brochure or to book an event,  please enter your full name and email address and then click submit.
Why O3e?
"I founded O3e in 2011, after many years in the team building event industry. I became frustrated with the amount of money and materials being wasted, and thought there must be a better way. It all came to a head with a 'polystyrene moment', being asked to carve and paint 3 blocks of polystyrene to make a totem pole to reflect the organisational values of the business I was working for at the time. I did the only sensible thing you could do and resigned to form what has become a leader in CSR Team Building, o3e.
Our very first event was in September 2011, 170 people in 34 teams, was a great success and enabled us to equip an East London Youth Club with 34 brand new bikes. It was incredibly inspiring, teams spending time together building their team and creating something tangible that makes a profound difference to someone else in our society.
o3e moves from strength to strength, each year we get new customers and each year our old ones come back.  Not only have we expanded our operation, so that we can deliver truly impactful events all over the UK, we have even facilitated our events in Europe and the US.  Always growing always innovating driven by a single minded passion to make a difference, our portfolio of challenges expands each year. Ask us about what we are working on you may be very surprised what a difference a few hours with capable people can achieve for society.
We're thrilled that you have found us and hope to work with you soon!"
– Peter Lindsay, Founder of O3e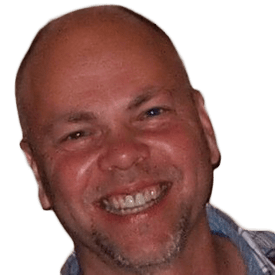 The event was great and your team were really engaging. The feedback here has been overwhelming positive. I have spoken with some contacts in other organisations, recommending you and I hope you will get further business from this.

It was great to have the opportunity to hear directly from the people supported by the charity

The Wheelchair Challenge day was amazing, everyone really enjoyed themselves and a few people wanted to find out more about organizing their own Team session! I would highly recommend having this on the list again; the catering arrived on time, the basketball coaches were excellent and it was a great cause. I can't actually think of anything negative that took place!

I would like to thank you for the event yesterday and suggesting Teens Unite to be the recipients. The cause was so appropriate and hearing the work of Teens Unite yesterday from Debbie was a reminder of the reason the team work hard in their roles. Please pass on my sincere thanks to your wonderful team. Everyone really enjoyed the event. I wish you and the O3e team a Merry Christmas and Happy New Year.