Charity Bike Build

Our original CSR team building event. Charity Bike Build has already built and donated over 2,500 bikes to charity. Become part of that legacy!
You will work as a Team to build a bike for charity!
Join the teams and businesses who have already taken part in a charity bike build and built over 2,500 bikes for charity!
Minimum numbers 5, max numbers? How big is the space? Charity Bike Build has already been run for huge audiences.
Working in teams of 5-8 participants, you will 'get the knowledge', plan and take on fun cerebral and physical challenges and of course build a bike to make a difference.
Fast paced, high levels of engagement, great communication, loads of laughter and at the end? Well, your team building event will have created brand new, awesome bikes to be donated to your chosen charity.
How does it work?
Charity Bike Build begins with a group briefing and a special charity presentation. The charity will announce who the bikes are for. The group is then divided in to teams.
Knowledge sessions are where the teams gain the skills necessary and each member will attend a different session, some may require two team members. Each knowledge session is led by a member of the o3e Bike mechanic team. They will teach the participants everything they need to know about building the bike.
The teams regroup to share what they have learnt in order to create a bike build plan. Following this the teams have access to professional bike tools and their own workshop.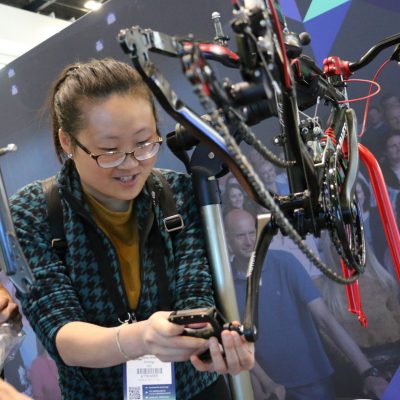 ``Thank you Peter, to you and your team, for expertly delivering a thought provoking team building workshop.`` RBS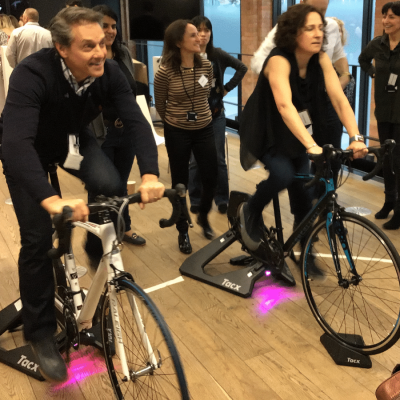 Test the team with challenges?
Teams compete in 3 challenges, all in the hope of winning Charity Cash. This can be exchanged at the charity bike shop for accessories. A great opportunity to customise the bike for the child or adult receiving it. You may want to pimp your ride!
Each challenge is designed to get the teams working together efficiently.
-Velodrome: Mathematical challenge designed to test team's communication skills.
-Nail it: A thinking outside the box challenge.
-Virtual Cycle Simulator: The latest in indoor cycling technology to test event the most enthusiastic rider.
Finale
Once completed and quality tested, the bike is taken to scrutineering where each aspect of the bike build is tested and scored. 
Awards follow, who has built the best bike, who wears the inner tube of shame, all will come clear during the final period.
And please don't panic – we carry out a full audited pre delivery inspection before the bikes are passed to the new delighted recipients!
At the end of the event there is an opportunity for photos and teams are asked to complete a card that will be delivered with the bike.
Normally the bikes go straight to the charity after the event, or very soon after where we are able to get photos and feedback to share.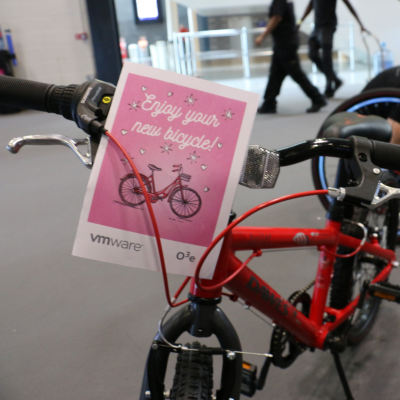 What will your team's legacy be?