Creative Charity Team Building

If it's a creative CSR team building challenge you're after, then look no further. We have a wide choice of exciting challenges for your team to experience including painting fun houses, textiles and skateboard design.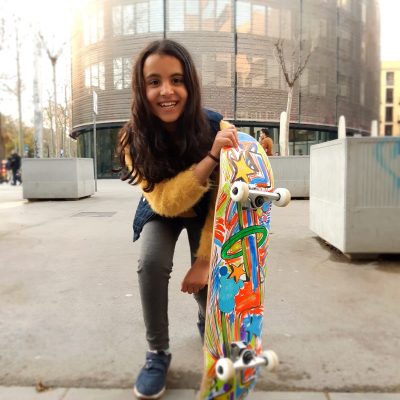 OnBoard
OnBoard is one of our creative team building creative activities that deliver value to the client, participants and the community. The challenge lasts for around 2 hours and begins with a presentation from the charity. Creating an emotional bond with the charity, focuses on the teams and boosts engagement.
This challenge is great mindfulness and well-being activity. A great opportunity to catch up with colleagues across a skateboard! It also offers a lower-cost alternative to our highly successful Charity Bike Build. This challenge focuses on the assembly and the creative individualising of skateboards.
Get Ahead
Get Ahead is a creative solution to tackling bed poverty. Build a bed and deliver a creative headboard.
Your team will need to assemble and paint the headboards in a child-friendly style. With a choice of underwater or jungle themes, your chosen charity will love their new beds!
Over the next few hours, the teams will transform these headboards into exciting and inspiring pieces of functional art. Completed, they are packed and ready for their new homes.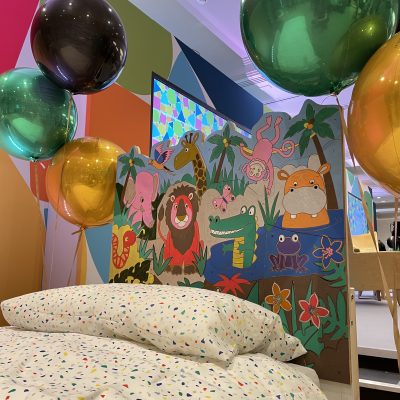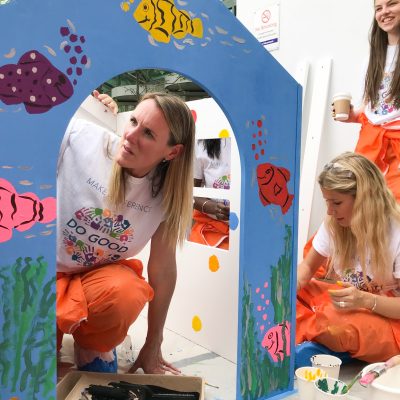 Fun House Challenge
The Fun House Challenge is a creative team building activity that allows teams to express their creativity and deliver a great end result, whilst challenging them on budgeting, time management, and allocation of responsibilities.
Suited to anyone, these creative activities are suitable for Graduate Induction, CSR Community Days, Team Off Sites, and Conferences. You can run the events indoors or outside, and all the paints are not only suitable for a child's environment but also for use in confined areas – perfect for a hotel conference suite or your own workplace.
The teams will need to build, paint, and decorate their own house or vehicle. Once finished, the Fun Houses will be delivered to either key charity projects we are working with such as the NSPCC's Neglect Programme. However, you may have your own ideas of where the fun houses could be donated.
"Your hard work and creativity has helped put a smile on the face of many children in need across the north-east. Thank you so, so much."
- Amanda Harland, Supervising Social Worker, Newcastle City Council
Funky Furniture
Funky Furniture is one of our most heartwarming creative activities that are great for team building. Your team will be smiling from start to finish. Together, they're undertaking a physical and tangible presence with a direct impact on children. There will be no 'team building cringe', just pure energy and focus on working together to the best of their ability.
Working with children's charities and local Social Care teams across the UK, your team's challenge will be to build awesome beds for children. Your team gets to be both artist and builder, creating these very special children's beds, and associated furniture. Put smiles on the faces of children up and down the country.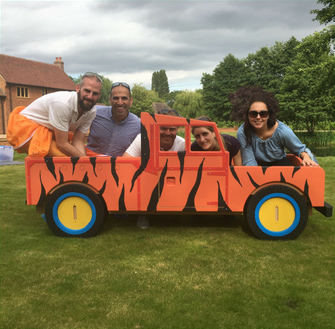 "We've worked with o3e for 2 yrs and their creative activities just keep getting better! We love that we can combine team building with charity work."
- Anna Gillingham, M&G
Make Sense
Make Sense is a unique activity that we have developed, with insight from a leading UK sensory integration expert, Joanna Grace. During the challenge you will work together to create an engaging sensory story bag. This is to be used in play therapy sessions, working to provide meaning, fun and engagement with children and adults with sensory processing needs or dementia.
Throughout the challenge, you'll take part in fun, insightful challenges to build trust with team members and develop empathy for people faces sensory challenges. A great team event for building empathy and inclusion in your work place.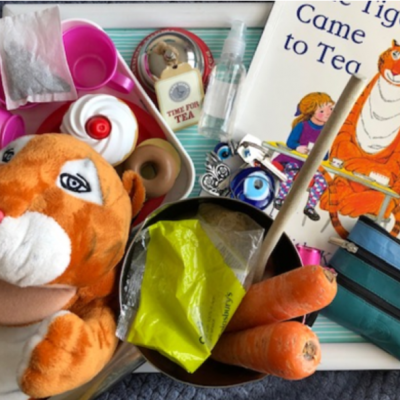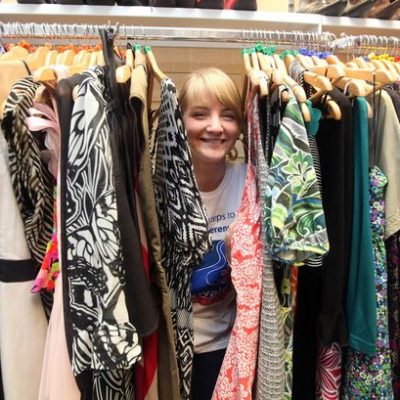 Community Catwalk
During this challenge, your group will be designing and creating a fashion collection that delivers against a set theme. It also provides funds for your charity.
All the materials and clothing will be sourced from charity stalls set up by the charities themselves. Help will be available throughout the challenge from our team experts, who can advise on creativity and help with some areas of tailoring. Stitching is provided by highly skilled seamstresses and additional items to enhance the designs are available from the haberdashery.
Once the collections are completed the fashion show begins. Each team provides the background to their design, musical accompaniment and models. The resulting fashion show will be all glitz, glam, fast-paced and exciting. Finally, our Fashion Gurus will decide who wins Top Fashion House.
Pedaling Smoothie
Pedaling Smoothie brings some welcome creativity into your business objectives, whilst creating value for your favourite charity. Creative activities like this will give the teams the opportunity to use their imagination and produce a new smoothie for their target audience.
The world of exotic beverages is a fine way to escape working life. However, the team skills and individual flair that help in your everyday work will be useful in creating a unique drink. In an atmosphere of fun and light-hearted competition, your team will plan, market, sell, design, package, produce, and finally taste your product.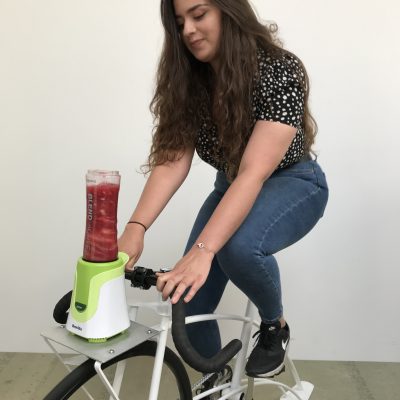 "Just wanted to say BIG thanks to you and your team for making our charity event such a great success! I hope the kids enjoy their new beds as much as our team enjoyed building them!"
- Johnson and Johnson