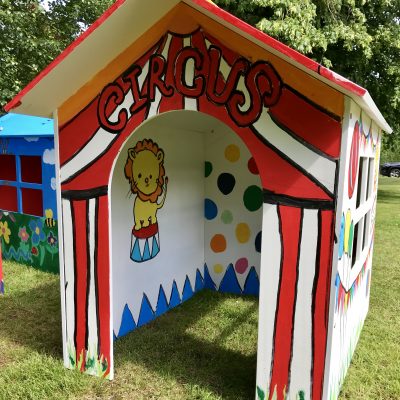 During The Fun House Challenge, your team will build, create and paint fun houses for children supported by children's charities and support centres.
Your fun house will be donated to help children engage in imaginative play in a children's centre, or it may become a tool for a play therapist to support children recovering or living with long-term illness or injury, or even a way for charities like Barnardo's and the NSPPC to help support a child who has suffered neglect.
The Fun House Challenge encourages teams to express their creativity, time management and allocation of responsibilities through building and creating a fun playhouse or vehicle for a children's centre, hospice or hospital.
Working in teams of 8 – 10, you will build, paint and decorate your own fun playhouse for children supported by local charitable projects.   With expert crew on hand to guide teams through the stages of the build, each team is provided with a flat pack playhouse, basic kit plus tools and equipment. Teams can acquire additional kit, tools and decorations to embellish their creations.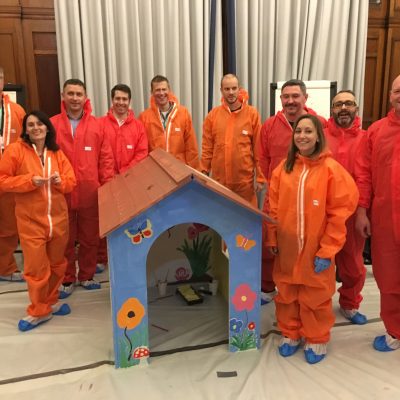 ``We are already a close team, but I have never felt so close to my colleagues as I did on the Fun House Challenge``
-Roche, Northern Europe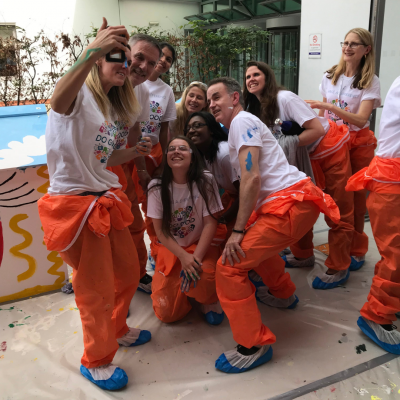 The fun house challenge creates an opportunity for your team to let their imagination run wild. Often the charity will give each team a specific brief or theme to follow for the houses, meaning teams must try to see the world through a child's eyes to create a fun and imaginative playhouse that can be enjoyed for many years to come.
The lovingly built houses will be donated to a charity of your choice or projects like the NSPCC Neglect Programme, which helps protect vulnerable children.
What will your team's legacy be?