Family team building for charity changes the dynamic of the home office and helps others in need. One of the significant features of Virtual or Remote team building has been that participants may get to meet the families, pets and housemates of their colleagues.
It is possible to engage this 'extended team' by using activities that makes it easy to include them. Remote team building activities are best for this. Something that includes artwork, like our Onboard, Get Ahead, challenge that requires teams to assemble a skateboard that will be donated to a children's charity or social inclusion project. Or Pop with Purpose Remote Challenges is great for family team building (although dogs and cats can find it difficult).
We capture these moments on film, as do the teams themselves, creating great memories further developing a sense of purpose and as a result reflects well on them and the organisation they work for.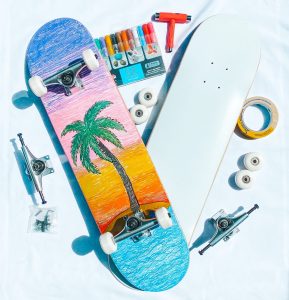 With Onboard, we provide your team with kits at home. They then meet online to share designs and learn more about how the skatebooards they have designed and built can transform lives through Barnardo's.
We have a series of templated boards for your teams to use. These include a graffiti style board. Additional challenges can be added including our On Board Quiz or Music Challenge!