We split team building events into two distinct categories: Huddle team building where the actual process of being together and sharing a similar experience is all that you need, and Developmental team building, which has a specific focus or business goal.
A Huddle team building activity in the old world could be as simple as having a lunch, getting everyone together for an informal chat after work, or going to the pub.
Given the plethora of online meetings everyone is already experiencing and the pressure of balancing home life with work, putting time in diaries for a Huddle virtual team build can be seen as more of a burden than a positive. But there are ways to elevate Huddle team building: cooking, cocktail making, food tasting and innovative or amusing quizzes, when carefully crafted, can do a great job of engaging the team, creating memories and reviving camaraderie.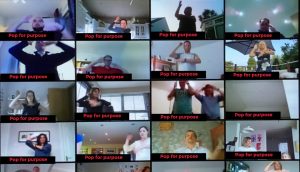 Our Huddle team building can bring people together from all over the world and really make them feel part of something.
Of course o3e Huddle team building has the added layer of always giving something to a worthy cause. For example, our online Zoning In allow teams to collect useful items for specific charities on their journey, whilst competing with other teams in the business and having fun on the way.
Developmental team building activities revolve around a specific goal for the business. For example, developing project management skills, breaking out of silo working (a prevalent objective at the moment), or renewing business or team focus.
Developmental team building has more business value, as it seeks to address a business problem and begins to solve it.
For example we might design a team building programme that steers your people through a Team Performance Model, such as Drexler Sibbet, using each element as a milestone and an opportunity to reflect.
Our own The Business of Giving team challenge is based on similar developmental outcomes for this high performing team model, the scores gained are a direct reflection on how well they work as a team.