Online Team building is a fun and creative way to get your team connecting and working together.
Whether you're meeting virtually or remotely, doing activities together can energize your team and brighten their day. There are actually two types of online team building: Virtual team building and Remote team building.
Virtual team building is one where your people explore a new world. Normally, this is via an app or a web portal. The team will  work together to complete challenges in an escape room or a murder mystery mansion. There will be few physical actions aside from perhaps dressing up, or taking a photo.
Remote team building is actually physically doing something. Our own Onboard at Home challenge, for example, gets teams to build and artwork skateboards in their own homes. The completed skateboards are then donated to young people through our designated charities.
Remote team building can be more complex. The Physical kits need to be distributed to people's homes or to regional locations in advance. O3e take care of all the logistics. But in our experience, these are well worth the effort. We find that the physical nature lifts the activity above 'another Zoom meeting' and makes for a much greater bonding experience.
Our Getting Ahead Challenge, where we send jigsaw pieces of a child's bedstead for the team to discuss and artwork online, gets brilliant post-event feedback, especially when employees receive a photo of the finished bed created by them and their colleagues, set-up in the bedroom of a disadvantaged child.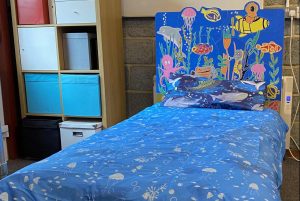 This headboard, painted by employees of a tech firm in a Remote team building activity and were provided to 'Connecting and supporting families' a supervised contact service that facilitates on going contact between birth parents and their children.