CSR Exhibition Service

Using CSR to cut through the noise and increase engagement at your stand.
An eye catching CSR activity is a fantastic way to cut through the visual clutter at a large event
The o3e CSR exhibition service provides a great conversation starter, drawing people to your stand naturally, through meaning, purpose and authenticity.
Research suggests that 80% of consumers will tell their friends and family about a company's CSR efforts, that's because customers are basing their buying decisions on a companies global outlook. This supports the idea that a CSR/Charity activity will drive referrals both at your event and beyond. Similar research shows 90% of consumers are more likely to trust a company where CSR practice is clear. With 90% actually switching or choosing a company based on strong CSR policies or goals.
Including CSR and a charity activity in your event is an obvious and awesome way to genuinely engage with people.
Read more about our exhibition services to grow event engagement here.
Charity Bike Build
Build a bike for charity. A highly engaging activity that captures the imagination and attention of the delegates. Sparing 5 minutes enables the delegates to become part of the exhibitors CSR story and give back to charity.
Participation enables engagement to continue long past the end of the exhibition. Follow up is essential with feedback from the recipient charity being communicated to the participants of the Charity Bike Build event.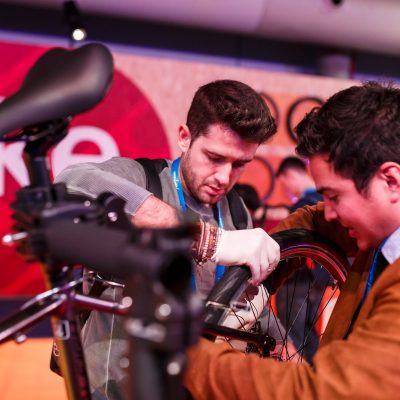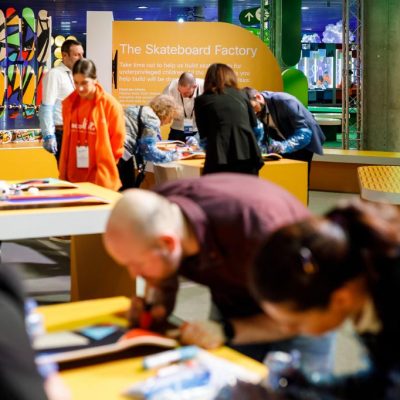 Get OnBoard
An OnBoard Challenge as an activity on an exhibition stand adds an extraordinary dynamic. Delegates will participate in a meaningful charity challenge that will bring a visible, colourful and artistic addition to the stand.
Finished boards create a picture of your CSR effort and participants will revisit to see how the stand is shaping up throughout the event.
OnBoard is a great opportunity to talk about how seriously your company takes CSR and leave a lasting memory in your potential customers' mind.
Sustainable Eco Exhibition Stands
Sustainability is becoming more and more essential when making buying decisions and one area that needs a shake up is the exhibition industry. A recent survey conducted by WTM suggests that 70% of the materials used within an exhibition are non-recyclable.
With careful thought and planning you can make a difference by insisting on the use of materials that can be reused or recycled.
o3e partners with sustainable set builders who are using materials creatively to build amazing eco friendlier exhibition stands.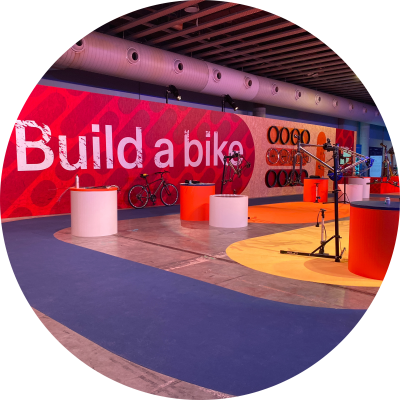 "The skateboards caught my eye, but there was something creative going on too, that you wouldn't normally expect at an IT conference. There was a real buzz about the stand. Once I found out it was for kids from less privileged backgrounds who would benefit, I was in!"
- James Carnie, Mobilise Cloud