CSR Exhibition Case Studies
See how our clients have increased engagement through our CSR Event Exhibition Service
Increase Footfall
Be the change and use CSR to increase your footfall through genuine connection, fun, and purposeful activities Studies show that people have higher engagement levels with cause-related work. Taking part in a genuine purpose-driven activity makes everyone feel that bit better.
Sustainable Solutions
Pause for a moment and think – in a world where consumers are more and more conscious of their footprint in the world, do you want to be the company handing out promotional bits of plastic? Combine our sustainable social purpose-driven events with our eco event booths to stand out from the crowd.
The o3e CSR Exhibition Service
o3e is the leading Charity Team Building company in the UK and Europe. Founded to enable employee engagement to achieve a purpose in society, we create the opportunity for you to provide an amazing team building experience and give back to charity at the same time, because it's a brilliant thing to do.
Peter Lindsay, the founder of o3e, has a strong belief that through community and CSR challenges, we can all make a difference in society, helping to close the gap between the people that have, and the valued members of our society who are barely getting by.
Our vision is that any business can be a force for good. Team building for charity should become an essential part of any conference, exhibition or team off site.
o3e gives you the opportunity to add one of our CSR activities to your exhibition stand in order to increase footfall, create connections and leave a lasting legacy with your delegates. 
Why would you want to do anything else? Contact o3e, the CSR exhibition service specialists.
Please get in touch for more information
Cisco Live
Each year, tens of thousands of IT and communications professionals attend Cisco Live events held around world. For the last 2 years, o3e has supported Cisco's CSR mission in Barcelona.
They've transformed event spaces into hubs of purpose, allowing their delegates to artwork skateboards and build bikes! Not only do these hubs allow attendees the opportunity to extend their professional network with like-minded colleagues but also reshape the local community.
Last year we delivered 50 bikes to Spanish charities including Arrels, Marillac Asociacion and Fundacion San Martin de Porres.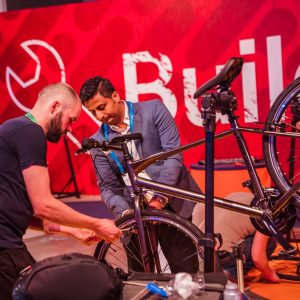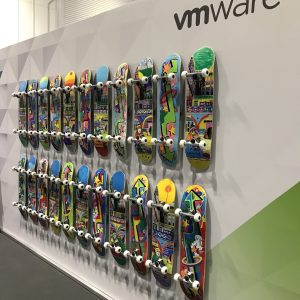 AWS VM Ware
The Amazon Web Services summit brings together technologists to connect, collaborate, and learn about AWS. Working with long-standing client VMware, we explored the opportunity to create a stand that would create a real buzz. Something different from the usual tech stands.
Imagine a tech conference with a wall full of skateboards, pretty eye-catching right? Delegates were driven to take a break for 5 minutes and get hands-on decorating and artworking skateboards! A mindful and creative activity that created real social impact in the local community.
We had hundreds of participants take part, discovered graffiti pros, networked with new faces and supported VMware in their goal to make lasting connections. All whilst delivering change, donating the skateboards to the charity.
Alteryx Inspire
Held in the historic Grade I listed warehouse of Tobacco Dock, Alteryx Inspire 2019 brought together over 2000 people in central London. The event connects their global community whilst hosting a series of keynote speakers, workshops, and guidance from leading experts.
Their global CSR effort, Alteryx for Good, delivers essential items to nonprofit organisations across the world. Keen to tie in CSR to Inspire, o3e partnered with Alteryx to offer their delegates the opportunity to build a bike for charity! Encouraging participants to spare 5 minutes throughout their day to pump up a tyre, fit a wheel, fit the gears and adjust the brakes!
From complete bike novices to experienced cyclists, we saw people of all skill types take part. Our experienced mechanics were on hand to assist all. Over 2 days, Alteryx and its community were able to donate 18 bikes of different sizes and styles to 2 different charities, Kids and Greenwich Foster Care in the local London area.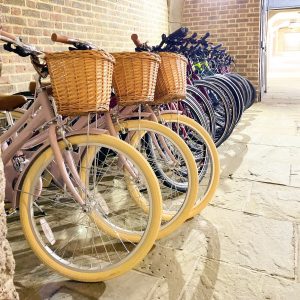 A CSR Exhibition Activity will...
Create
Connections
Skip the small talk. Brilliant for creating a talking point with your event attendees. Let the power of CSR create meaningful relationships.
Grab
Attention
Create visual disruption at any event and grab the attention of passers-by. Stand out from the rest and create a real buzz to draw people in.
Purpose
Driven
Drop the gimmicks. Create an authentic program for social change to bond with your delegates. Build mutually beneficial working relationships.
Lasting
Impact
The most memorable part of your delegate's day. Lasting legacy post-event. CSR aids with recall and connection.
Some of our delighted customers
and some of our delighted charities