Getting the Balance

The aim of this challenge is to reduce pollution on the school run by changing behaviour... your team can be part of the change.
Getting the Balance was created after the incredible success of our Charity Bike Build. The charity Home-Start approached us, to see if we could provide something similar for their younger children.
The event contributes to their health and wellbeing project, with the aim of reducing pollution on the school run through donations of balance bikes and scooters to families living in poverty, disability or mental health difficulties.
Working in teams, Getting the Balance will see your participants facing head-to-head challenges to earn the parts to win your bike and scooter parts. Both cerebral and physical challenges, there's a challenge for everyone!
The exercise a school run gives a child, helps to boost and support their mental health, with schools commenting that children arrive ready to learn, if they've already had exercise before they arrive.
'My son loves his balance bike! He's going to nursery on it every day from now on so his friends can see it.'
Treat your team to an engaging session of incredibly fun and energetic challenges in keeping with the scooter theme, and honing their skills in planning, collaboration, and tenacity.
Getting the Balance takes around 2.5 hours and in teams of up to 8, you'll work together to take on 6 team challenges. Successful completion of these challenges will earn you the parts you'll need to build your very own balance bike or scooter. Both cerebral and physical challenges, there's something for everyone!
You can even earn bonus points to acquire accessories for your scooter or balance bike and jazz up your ride for the child receiving it! Maybe a helmet or lights? Have a think about what the recipient may need!
Benefit from the inclusion of CSR in your team building event, as an authentic and effective tool for creating high levels of engagement and commitment to both their colleagues and your business.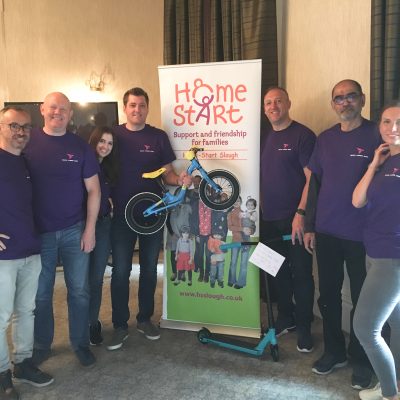 What will your team's legacy be?