We have used four online meeting apps that we believe are suitable for business: Zoom, Teams, Webex and Hangouts. It's important to know the features that matter for a successful virtual team building experience, as well as the unexpected pitfalls they can each present.
Breakout Rooms 
are
great
(if
properly
managed
)
For virtual team building, one of the essential features is Breakout Rooms that enable us put people into teams. Zoom had the march on this capability, but the others are now catching up.
Breakout Rooms enable you to break up a cohort into manageable discussion groups (say 4 to 9 people). The app will randomly put participants into the number of groups specified. It is best to make your leadership team co-hosts in order to allow them to float between rooms as hosts. In this way, they will be able to leave their team and join the group they are assigned to.
There are complications when you wish to group specific individuals in specific breakout rooms.In principle this is straightforward, but a word of caution here. Many people have been using Zoom for months in their own personal friendship groups with their personal email address. If your participants are not logging in using the same email address as the one that has been assigned to a breakout room, pressing 'breakout' can unleash a nightmare that can crack even the coolest event organizers. Only 25% of the group go to breakouts, leaving us with the other 75% to allocate manually!
The work around for this is to make sure your audience create new accounts using your company's email or submit their registered email for their account prior to the event.
Breakout Room Hacks
You can of course 'switch to manual', allocating participants a team number before they start. The smart way to do this is to ask them to put their team number at the beginning of their name using the name change feature when they join. This helps to collect them into groups, greatly speeding up the process for the administrator.
You can also get around Breakout problems by setting-up additional meetings for the discussion groups instead. You will need to check your account settings to ensure that you have enough hosts or simultaneous meetings within your account.
We recommend enabling Extra Hosts 
Multiple Host enables another person within you team (or ours) to have administration rights. We find this incredibly useful. It takes the pressure off the organiser and enables control to pass quickly if the host has an unforeseen technical, business or personal issue.
 Taking care with connections to smartphones/tablets 
Many virtual team building challenges are app based, so they only work on a smartphone or tablet. As a result, they are designed to be used as a face-to-face tool outside or in a conference room where speed and control are key.
For an online team building event you need to be able to display your app screen on a computer screen to share with team mates. As the feature is built into the meeting application, Webex and Zoom will work straightforwardly when you have an iPhone/iPad and Mac combination.
With Android and Windows, it is more challenging, since meeting applications are not out-of-the-box. In order to share the screen from an Android device to a Windows device, you must either use third-party software such as TeamViewer, or the Android device needs to join the meeting separately, after which it can be shared.
 Dealing with muted or video off participants
On a large event (we can have upwards of 500 people taking part in our Hip-Hop based Pop with Purpose), some participants turn off everything, so that they can't be seen or heard. Switching off the group microphone is a good idea when speaking to reduce background noise, but muting both may impede (or prevent) group participation.
It's worth noting the percentage: we reckon the normal is around about 15%, and there may be lots of reasons for this. You can direct message them in live chat and check they are OK. Or you can survey them after the event and find out why.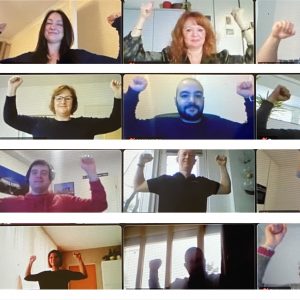 Online or in-person, our Pop with Purpose gets your team up on their feet, while supporting projects that work to improve the physical and mental well-being of patients with Parkinson's.
Lights, Camera, Action 
There is a lot of information about the best home video conferencing set up elsewhere, so we won't dwell on that. However lighting and camera position for presenters and hosts are really important if you want to keep people's attention.
Lighting – should be at 12 o'clock or 10 o'clock, try both and see!
Camera – should be at head height. Use books or get a Stood or similar eco laptop holder if necessary. Also bear in mind where your camera is and look at it when talking. You can look at everyone else when you have finished speaking.
Backgrounds – most of the online meeting apps have an opportunity to change the background, and we suggest you use it. Create a bespoke background that meets your communication objectives or the theme of the team building challenge.
Tuning in to the latest innovations
The main players in the virtual meeting space are innovating all the time. It's worth looking at all of them to see which offers the best solution at the time of the meeting.
5. Including family, pets and housemates