Performance Wheelchair Challenge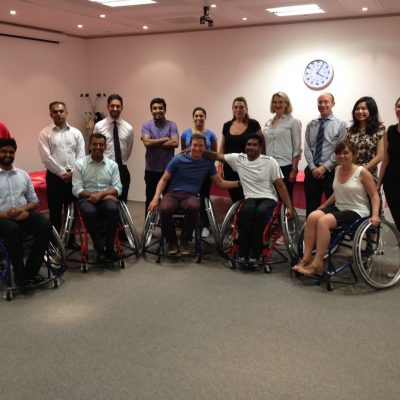 The Performance Wheelchair Challenge is perhaps one of our most rewarding CSR team building challenges.
In teams of up to 10, and facing challenges along the way, you will build your sports wheelchairs for grass roots inclusive sports clubs or charities  such as Access Sport and Nova Sport and Coaching. Or you may like to support ex-servicemen and women in their physical and mental rehabilitation, and in some instances their athletes who are training for the Invictus games.
Lat year, some of our wheelchairs went to an inclusive wheelchair basketball team called Tarka Otters, meaning that George could play basketball with his younger brother, who has a disability. Read what George's dad had to say;
``The use of the wheelchair that George uses, enables him to interact with his younger brother and has allowed him to understand what it is like to have limited mobility, whilst building an even closer bond with his brother within the same sporting interests with neither of them being at a disadvantage and also feeding their own competitive ways with each other."
Whilst disability and inclusive sports clubs do exist, sport remains inaccessible for many people with disabilities due to the high entry cost of buying sports or racing wheelchairs. Many sports clubs lack the funding, to ensure there are enough wheelchairs to meet demand.  Sport is also a crucial tool in rehabilitation for many people.
We buy all of the wheelchairs for this event from the fantastic charity Motivation International, which means you can be sure that your event is helping people with disabilities at every stage. While your event's wheelchairs will be supporting people here in the UK, the profit Motivation make on their brilliant sports wheelchairs, funds bespoke wheelchairs in various countries across Africa and Asia, where access to appropriate wheelchairs is prohibitive and therefore the work they do, can be life changing.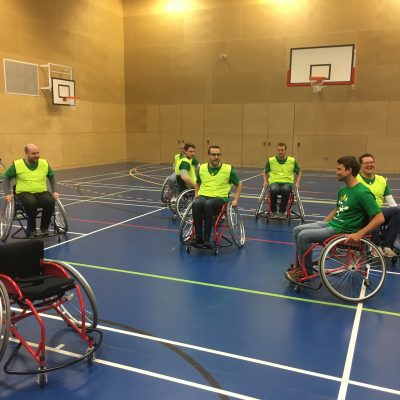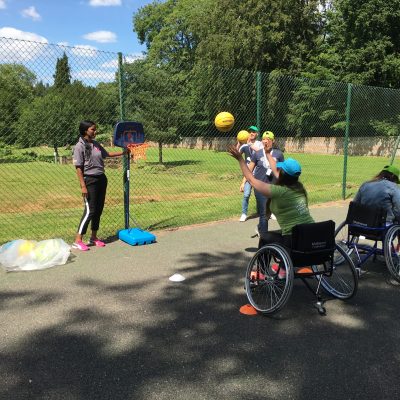 Your Performance Wheelchair challenge will take between 2.5-3 hours, and can also be extended if desired, through adding in more challenges.
The challenges you take on throughout your event, have been carefully created to build empathy and awareness for people living with disability. These challenges are a great way of 'levelling the playing field'.
A standard Performance Wheelchair Challenge will have 6 challenges. Here are a few that we offer:
-Boccia: The famous Paralympic sport with a twist
-Colour blind: How well will your team be able to communicate when we take away one of your senses?
-Wheelchair Marathon: A racing wheelchair and a rolling road simulator, have you got what it takes to power your team to the finish line?
-Grey Matter: A series of brain teasers
-Paralympic Quiz: Name the Paralympic stars and answer questions around disability sport
-Wheelchair Race: A head to head relay race in a wheelchair
-Photo Mission: Through the medium of photos, your team must represent 5 statements that focus of key words and values from your strategy.
Once the wheelchairs are complete, we offer the option of having a basketball match finale, an obstacle course or a race, if space allows. This is huge amounts of fun! Check out our client NBC taking on the race challenge!
The wheelchairs will then be taken directly to the charity for immediate use! As with all of our activities, we will follow up with feedback from the charity, so you can see for yourself what a difference your hard work made!
Watch our performance Wheelchair Challenge in Action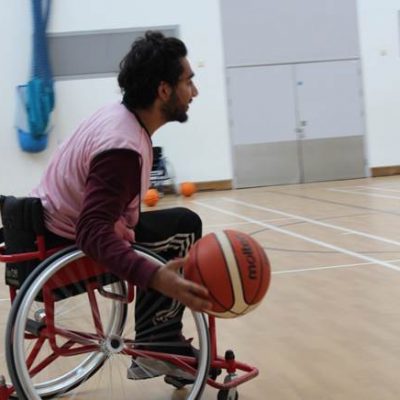 What will your team's legacy be?