Let the leaders in Virtual Charity Team Building help reconnect your Team
Participate in a Virtual Charity Team Build Challenge from £18
Building and maintaining a great team through brilliant team work
With differing experiences during the pandemic losing the focus around great team work is understandable. A high performing team needs to renew and greater performance is going to be an essential ingredient for success in 2021. O3e can help you deliver.
Each o3e virtual charity team activity has the key ingredients needed to help make your team more coherent and build the key skills required for the challenge ahead.
With 8 virtual charity team building challenges o3e have the right solution to meet your needs. 
Great fun

Challenging

Competitive

Memorable

Give something back

Duration from 30 minutes to 2.5 hours

Any number of teams

Any number of participants

Tablet or smartphone

Work with amazing charities

24 Hours – across all time zones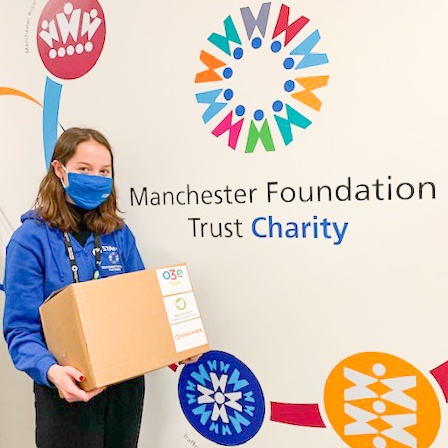 I absolutely love working with you and o3e!!  We had so much fun yesterday and we couldn't have done this without you. All the prep calls, attention to detail and fun creative assets for the promotion campaign were excellent.  Great facilitation and we really appreciate your coordination with FareShare to be on the call as well You were all amazing troopers for leading our crew at 11pm your time!  Thank you for that massive dedication!
Director of CSR, Alteryx
Zoning In
Everything we have learnt over the last year is piled in to Zoning In. An interactive challenge where teams win items for the charity in need!
Each level has a theme, and the teams will be faced with different challenges in each zone.
Challenge your general knowledge in the Game Show Zone; Fight off the Robot Invasion in the Future Zone; Push your cerebral limits in the Grey Matter Zone; Reset, restore and refocus in the Zen Zone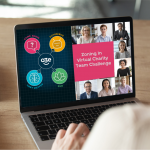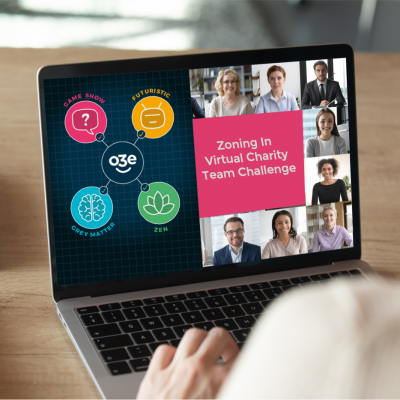 The Business of Giving
An opportunity to run a Purpose focused business. This is great for learning and development, team work and incorporating team models like Drexler Sibbet High Performing Teams© or the Tuckman Model©. Succeed in your purpose and you profit, fail and you lose everything!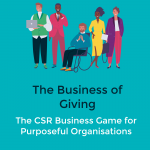 Pop with Purpose
A lockdown loosener. Pop with Purpose is a great icebreaker, just 40 mins and you can get the whole team popping and moving like a pro. One of our most popular challenges over the last few months. Proceeds go to Parkinsons UK in order to deliver more Popping workshops.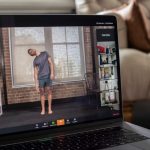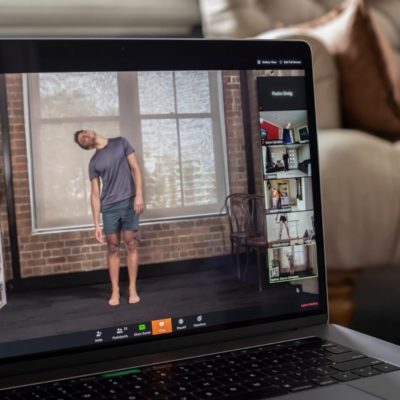 Getting Ahead
Nothing virtual about this, there are reportedly more than 400,000 children who don't have a bed in the UK. Getting Ahead looks to address this with a highly creative team activity which can involve an entire household. Artworking pieces of a headboard so that they can form a big picture and make a difference.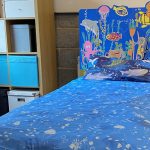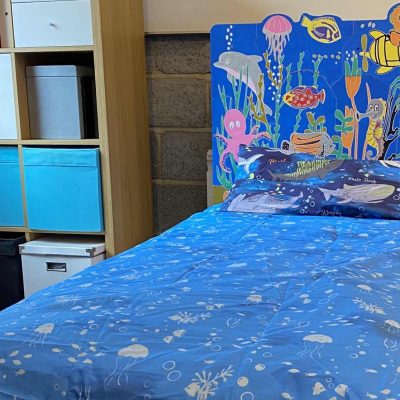 OnBoard
A mindful and creative task which also delivers value to your community.
Does someone have a hidden artistic talent you didn't know about? Do your tream need to get creative juices flowing after spending so long at your computer screen?
Each of your team will receive an OnBoard kit in the post pre-event with everything they need. This is the perfect mindful activity to give your teams a break and do something for a great cause The skateboards will go onto enable inclusion, rewards and fitness programmes for your people.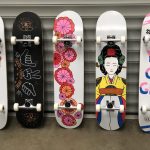 Teams will need to work together to consider the "bigger picture" and ensure their colours match across the pieces, developing communication skills and teamwork.
Once finished, they just need to pop them back in the post to us and we will deliver them to a local children's centre.
The jigsaws are currently being used as an activity to reconnect young children with their parents alongside the charity Barnardos.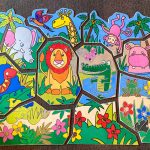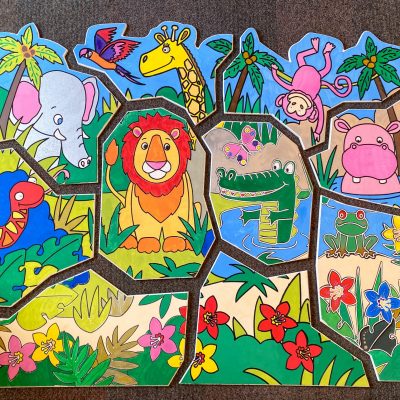 What will your organisation's lockdown legacy be?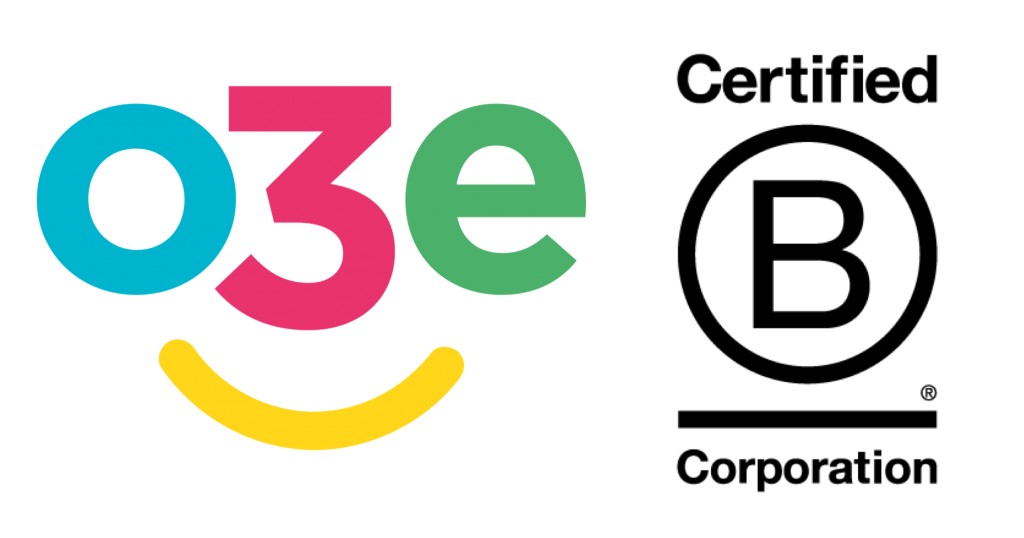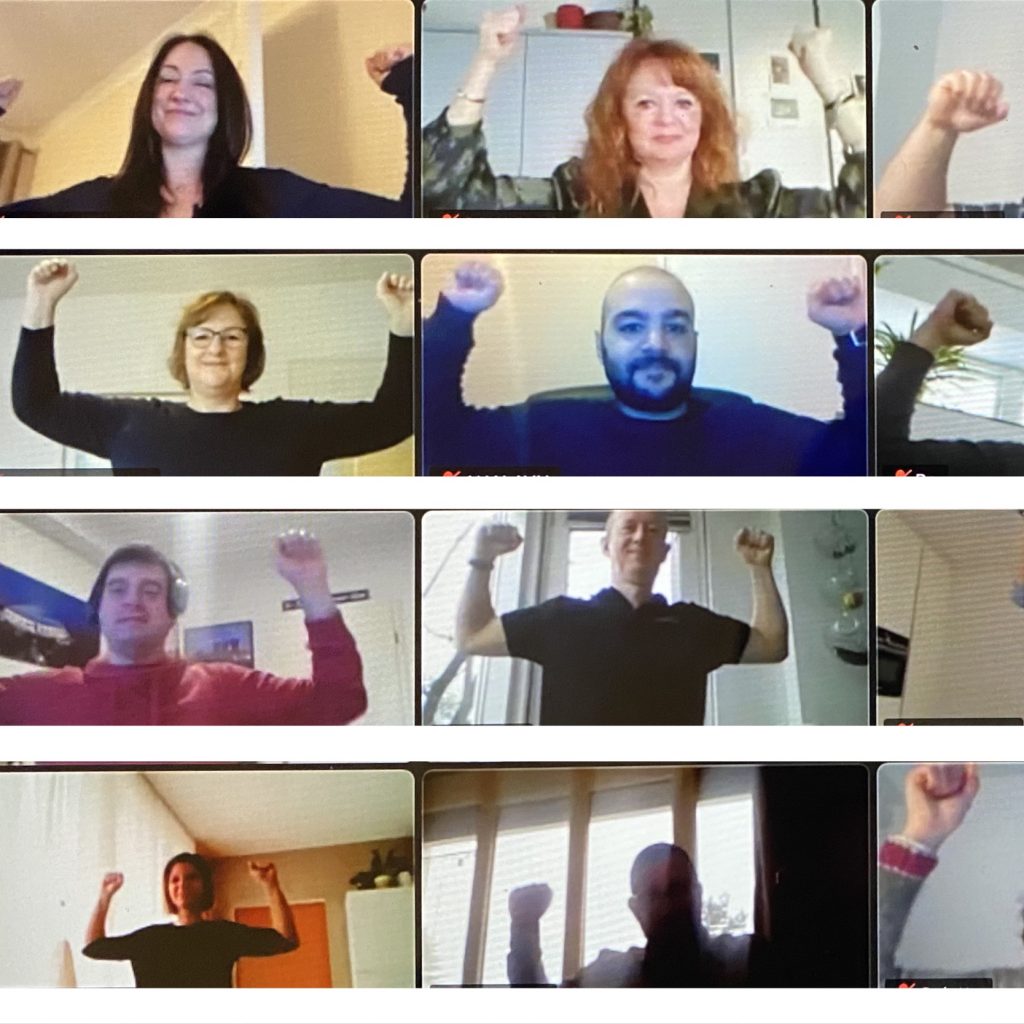 Why Take Part?
Team building for charity has been associated with higher participation and engagement because doing something to make a difference and help others feels amazing.

Recent research suggests that team building activities help with employees mental health.

Develop the essential soft skills of great teamwork including

Time management,

Communication,

Responsibility

Trust,

Goal setting

Commitment

Execution

Have fun and laugh together

Do something memorable