Make it a Decemeber to remember...

...by giving back this year with one of our festive charity team building activities. It's time for the season of giving!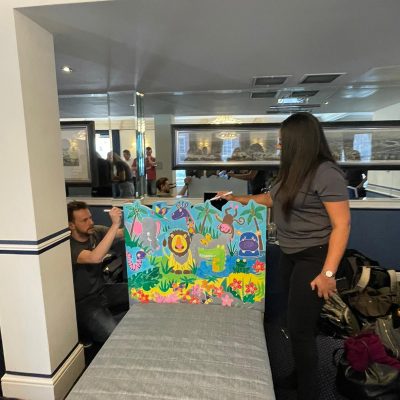 Get Ahead
Imagine not even having your own bed to sleep in this Christmas? Our Get Ahead festive team building challenge has been created to help tackle bed poverty.
Working in teams of 10, your participants will each be responsible for a unique headboard and bed. The team will have to collaborate to ensure when the pieces come together they are consistent throughout and the colours match!
There are plenty of opportunities to freestyle, the important aspect is that the final assembled headboard will grace anyone's bedroom!
Why choose Get Ahead?
Some studies have estimated that there are 400,000 children going to sleep at night without a bed, even if this is only 10% accurate it would mean 40,000 children will have nowhere to hang their stocking! The finished pieces are carefully assembled and combined with a bed frame and mattress before being installed in a child's bedroom in time for Christmas.
Seasons of Giving
This virtual festive team building challenge gives teams the opportunity to reflect through the seasons of the year whilst doing something great for charity.
Your mission is to save winter just in time for Christmas, by collecting 4 crystals from each of the 4 seasons. And if you accomplish your mission, care packages will be delivered to a charity of your choice, just in time for Christmas!
Each seasonal zone will have a series of different tasks for the teams to complete! Photo challenges will encourage teams to collect nearby props, riddles and clues that will help them solve the next question, and we'll even test their acting skill with a movie scene remake!
Why choose Seasons of Giving?
This is the perfect virtual activity for your Christmas party or end of year! 1.5 hours of feel good fun that will have your partnered charity eternally grateful for your care package donation.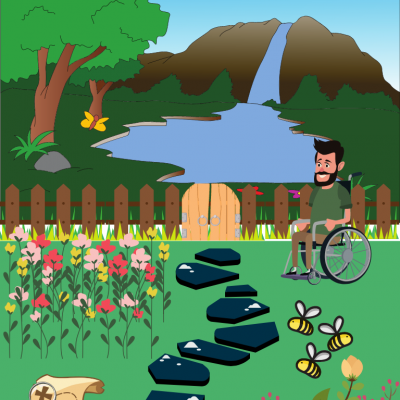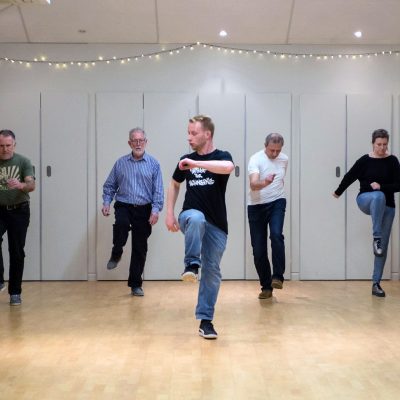 Christmas Pop with Purpose
Dive headfirst into this festive Hip Hop dance class whilst supporting projects that work to improve the physical and mental well-being of patients with Parkinson's disease.
The class will consist of a warm up, basic principles, a choreographed combination, a freestyle session, and a cool down. You will get to rock your best moves alongside your coworkers and get funky! It will stimulate creativity within the workforce and revitalise the team!
Why choose Christmas Pop with Purpose?
Your contribution enables people with Parkinson's to participate in weekly Popping dance classes free of charge.
Charity Christmas Cracker
Create a perfect box of crackers for Charities in need this holiday season! As society is progressing to a sustainable future, homemade Christmas Decorations are very much in vogue. So now is a perfect time to get the team together to learn the tricks of the trade and create your own crackers and some for Charities in need.
Get the team together to learn the tricks of the trade from our Expert Elf and create your own crackers.
Why choose Charity Christmas Crackers?
Homelessness is a constant problem, crackers can be filled with helpful items and vouchers. Domestic violence also peaks over Christmas. Your crackers could be filled with items to help people fleeing violent abuse.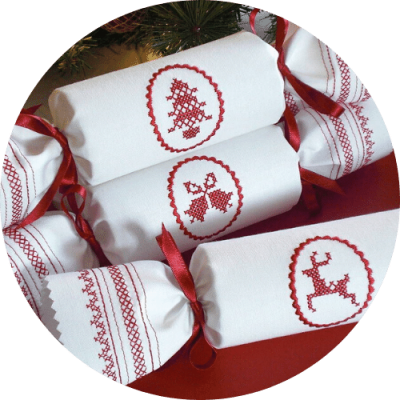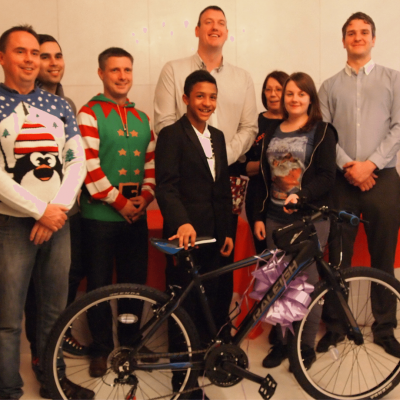 Christmas Charity Bike Build
The original o3e CSR event, the Charity Bike Build will have your teams engaged throughout their Christmas event. What better way to end the year then building and donating a bike, just in time for Christmas?
The challenge is for approximately 2.5 hours, and this can be tailored to suit your agenda. Your group will be split into teams of 5-8 and will build one bike per team. Teams will compete in festive team challenges in order to win accessories for their bikes.
Not clued up on how to build a bike, don't worry! Our trusty bike mechanics will be on-site to assist you throughout after kickstarting with a knowledge session.
Why choose Charity Bike Build?
Our donated bikes have enabled literally thousands of people a life-changing opportunity. o3e and it's clients have created well-being cycling clubs, refugee transportation, and your people access to something they could only dream of!
£20 is plenty
Get the team together and help someone else this Christmas
£20 a person and a minimum of £120 per event is all you need to make a difference this festive season. Have fun and get with the spirit of giving at Christmas.
o3e's exclusive app will challenge your team in a compendium of tasks; Photos, Movies, Music, Brain Teasers and Moves will gain points and all the time you will be targeted in creating care packs for people in need.
How it works
Meet with your team, in the office, coffee shop or pub,
Download the app
Introduction and understand the charity requirement
Go!
Now any company can add something amazing to their Christmas celebrations.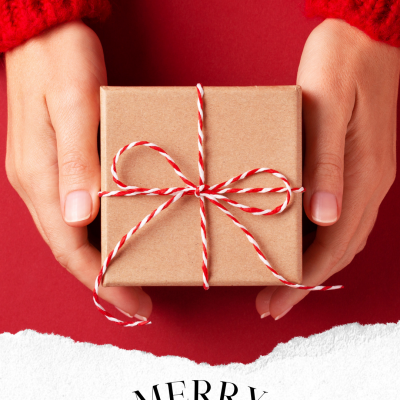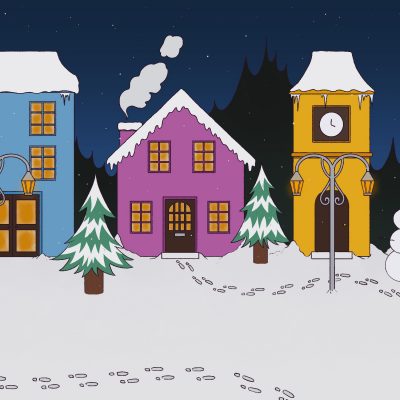 Giving from the Globe
A festive team building version of our popular Virtual Escape Room!
Explore a miniaturised wonderland and grab as many gifts for charity as you can.
Gather your team for a series of holiday-related riddles, puzzles, code-breaking, drawing/video challenges from the comfort of your own home.
The better your team performs, the more items your team can collect in your care packages and send to a charity of your choosing during the festive period.
Why choose Giving From The Globe?
Giving from the Globe with o3e will enable your teams to win important items for cancer care, domestic violence victims, and young children.
Charity Party Planner
We all love a Christmas party, an excuse to bake sweet treats, make homemade decorations and have some fun with our colleagues! However, not everyone is that fortunate. This challenge will have your team taking on various components of the perfect Christmas party in order to throw the ultimate bash for the charity of your choice!
Who will be the ultimate gingerbread house decorator? Have a DJ or playlist expert who can sort out the tunes? Or even put together a Christmas choir ready to sing carols! We will have you making wreaths and cooking delicious festive food, uniting your teams for the greater good. And the best bit, your teams get a party in the process!
Why choose Charity Party Planner?
After the last 18 months, there are many charities that won't be able to throw the ultimate Christmas party for the people they support. This is your opportunity to become the party planner of the year and a hero in the charity's eyes!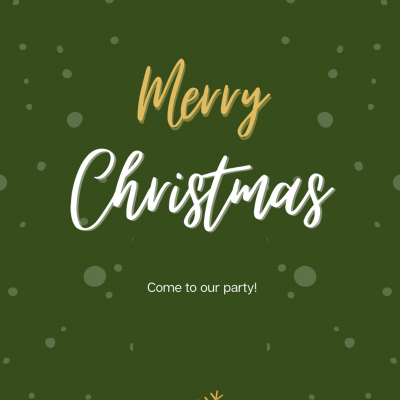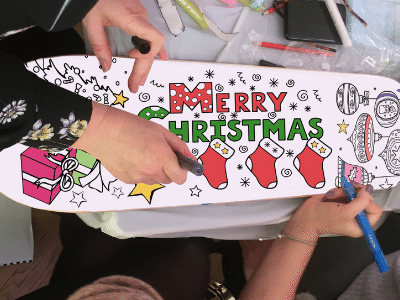 Christmas OnBoard
Be creative and make the ultimate present for a youngster!
The challenge lasts for around 2 hours with your participants working in teams of 6 and focuses on the assembly and the creative individualising of skateboards. With one templated board and one blank board, can the teams meet the charity's creative brief and assemble the boards before the event finishes? It's time to get creative with this rad challenge.
Why choose OnBoard?
Skateboarding has been proven to assist children in developing social skills, cope better with stress and contribute to their capacity for learning new skills. After its debut at the Tokyo Olympics in 2021, we predict its popularity will soar!
Interested in one of our Christmas Team challenges, get in touch below: