1 Hour Charity Team Building Challenges

Charity team building challenges that are perfect when you have less time! Take on these charity team building challenges and see what impact you can make!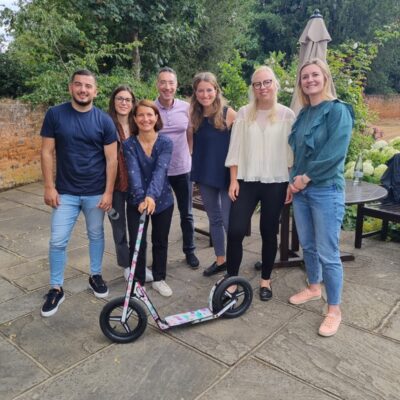 The Scooter Dash
This 1 hour charity team building challenge will get your teams building scooters for children aged 5-15 years old. The perfect activity for that 1 hour charity team challenge or hospitality evening. But get ready to dash! The scooters need to be built and pass a safety check in just 50 minutes!
We start with a briefing from the o3e Team Leader. Then hear directly from the charity about these scooters will make an impact to the people they support. Working in groups of 6, our scooters are split into 3 sections, with vibrant and unique graphics!
The scooters are then donated to a local charity the same day that you built them. Your impact to the community is immediate. Sustainability wise, the scooters are designed to be fully recyclable with our suppliers! Even the wheels are made from recycled rubber! Scooters encourage children to scoot to school, providing a more sustainable method of transport.
OnBoard
OnBoard is a brilliant creative and well-being team building challenge! It focuses on donating skateboards for local social inclusion projects. Fully hosted by o3e, we also invite a charity rep will along to speak about the work they do and how the skateboards will make an impact to the people they work with.
1 hour gives you enough time to colour and artwork our templated boards. Express your creative flair, and build the boards all whilst connecting with your colleagues. Our templated board comes in 2 designs and means those who are a little less confident in their artistic capabilities feel more comfortable, meaning the team is involved!
The great thing about OnBoard is that there are so many ways you can make it your own. Why not have your own custom design? Get in touch to find out more.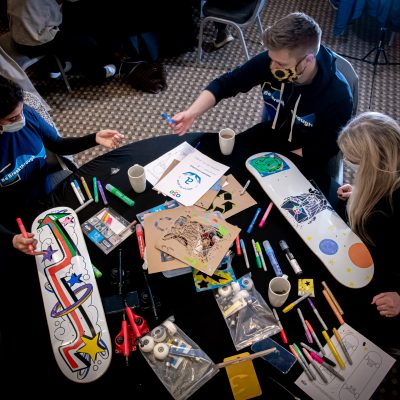 "I just wanted to 'thank you' again for Friday - you and the guys were brilliant and brought out so much positive energy from the team."
"I really enjoyed the whole experience. I sometimes find team building activities too much like forced fun but this one, I genuinely enjoyed!"