Trying to find a team building event that will engage a large group of people can be daunting!  At o3e, we believe we have the secret to engaging your large audience to achieve a successful event. Our list of team building ideas for large groups, will support you in a number of ways;
Appeal to everyone attending,
Facilitate easier agreement and buy-in from your multiple stakeholders, and
Provide an excellent motivational reason, to ensure participants turn up!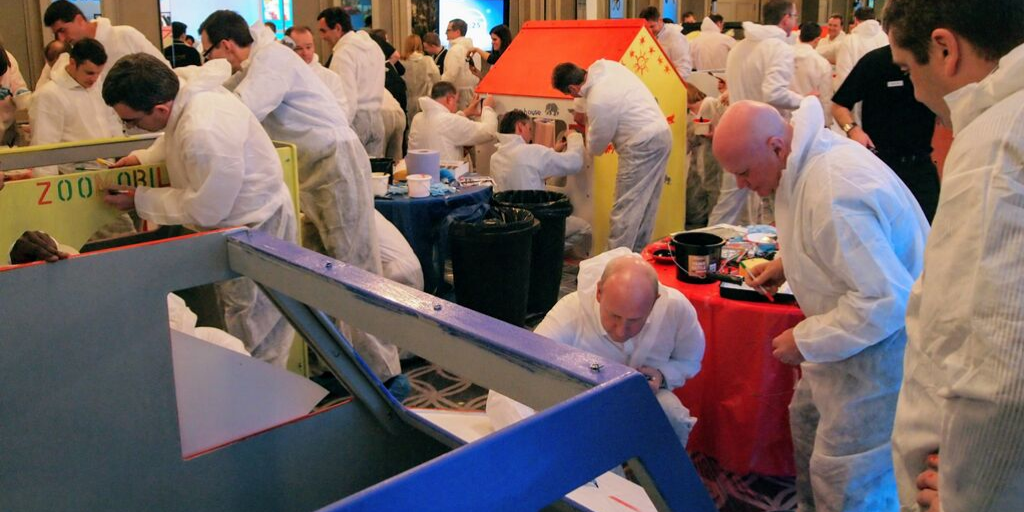 We can achieve this because, with o3e, your large team building event is about something even bigger than you!  In contrast to typical team building events, your event with us, will create something beneficial for your local community!
With CSR weaved into your event, you will have higher engagement rates and attendance levels. Furthermore, you will also find that achieving sign-off from multiple stakeholders is easier. This is simply due to the community CSR goal you have included. Ultimately people like and want to help others.
Need proof? It almost entirely comes down to the simple engagement stats around CSR, and how it naturally and authentically engages people. We like this particular statistic, which relates to companies incorporating CSR;
93 percent of global citizens will have a more positive image of that company [see article]
Below, we've pulled together 9 team building ideas for large groups, so we can inspire and engage your WHOLE team. The events, which are specifically run by ourselves, all simultaneously create something of real value for your local community.
Team Building Ideas for Large Groups
1. Performance Wheelchair Challenge
Our Performance Wheelchair Challenge, will see your team working together to build their own Motivation sports wheelchairs. After your event, your team's completed wheelchairs will be donated to a grassroots inclusive sports or armed services charity.
This event is easily scalable for a few hundred attendees, with teams typically work in groups of 10. An event for 200 people (like the Pfizer event pictured below), would create 20 brand new sports wheelchairs for charity!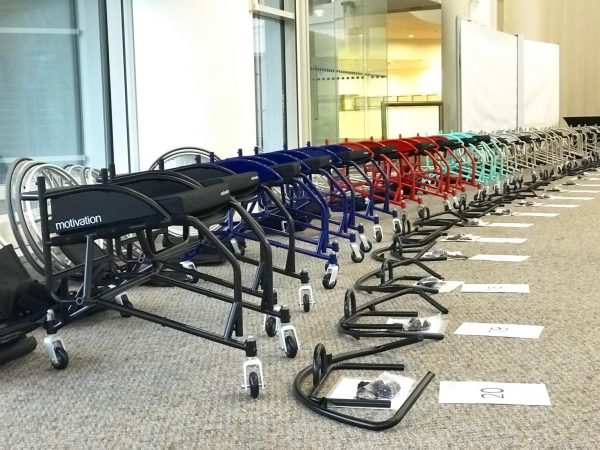 Your team will spend 2.5-3 hours on this activity, with plenty of team challenges along the way. Each team challenge has been carefully created to build empathy and awareness for people living with disability. These challenges are a great way of 'levelling the playing field'. Examples include Boccia (a Paralympic sport), wheelchair simulator racing and Colour Blind, a communication game which your team must complete whilst blindfolded.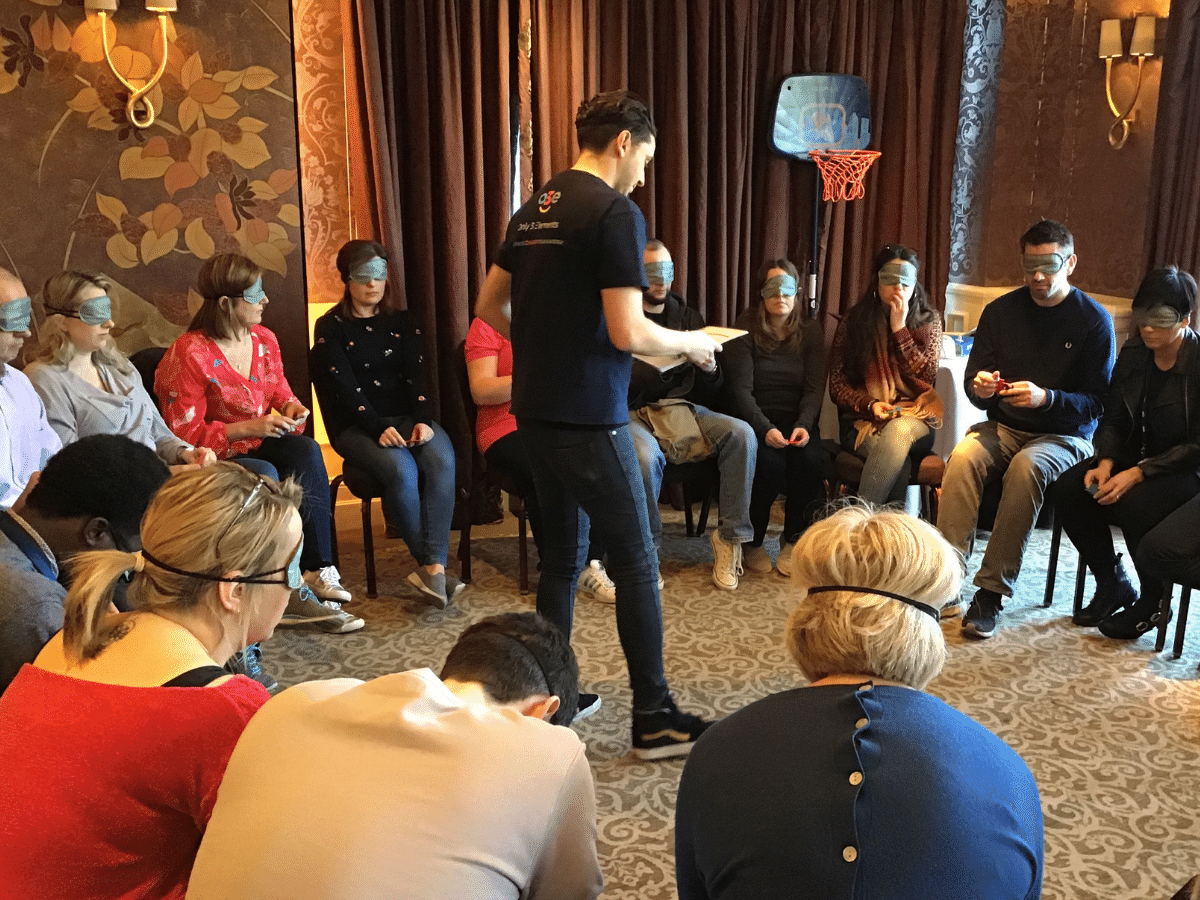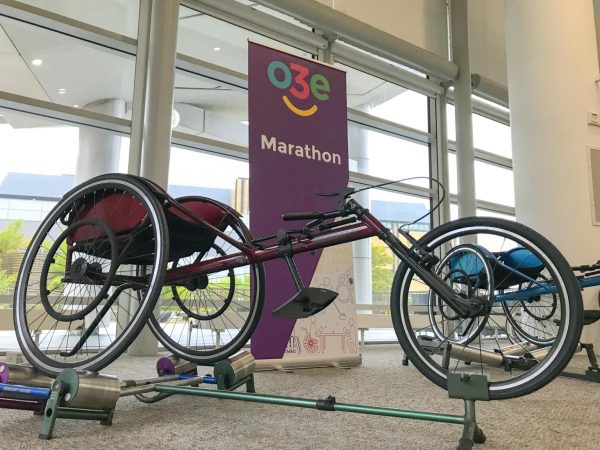 At the end of the event, your team will get the chance to compete in their wheelchairs! This could be in a relay or obstacle race, or in a game of wheelchair basketball! On some occasions, we have wheelchair athletes in attendance, who can really put you through your paces! We guarantee your team will have lots of fun, whilst building huge amounts of respect and awe for Paralympic athletes!
O3e will then pack up the wheelchairs and take them directly to your chosen charity for immediate use! As with all o3e activities, we follow up with feedback from the charity, so you can see for yourself what a difference your hard work made!
Watch a Performance Wheelchair Challenge in Action!
2. The Haka Dance
Haka is an ancient Māori war dance traditionally used on the battlefield, as well as when groups came together in peace. It's known to be a fierce display of a tribe's pride, strength and unity.
With an average duration of anything between 10 and 90 minutes, the Haka is ideal for team building, meetings and conferences for a number of reasons. These include its amazing visual spectacle, the fact that it requires no equipment or set up time, and ultimately that your team will have great fun.
The session starts with the Maori team storming the stage and performing the dance in front of the surprised guests, before taking your team through their paces and learning the Haka themselves!
Once the dance is mastered, your team will go head to head in a tribal battle with the Māori performers! Finishing with a battle for tribal supremacy, where teams come together for the ultimate Haka finale.
This activity is designed to bring people together in a shared emotional experience and it can facilitate up to 5,000 participants at one time!
3. Singing
With a very flexible duration, typically of 5 – 60 minutes and a maximum group size of around 5,000 people, singing is very flexible to your needs. It's a fantastic way to encourage participants to step out of their comfort zone and energise themselves. Getting your team to sing in a large group through singing collaborations, is great fun and has a strong emotional impact.
Participants are guided by an experienced vocal instructor and led through a series of fun exercises, stretching the body and voice. As confidence levels increase, the team are encouraged to achieve more and more until, finally, the whole team comes together in a song uniquely tailored to the group.
Studies have shown that group singing will boost your team's social, emotional and psychological wellbeing.
4. Charity Bike Build
Charity Bike Build is o3e's original CSR team building activity, and after 5 years, it's still the most popular!
Your team will build bikes which are then donated to your chosen charity. Over the last 5 years, o3e's Charity Bike Build has seen over 2,200 bikes built and donated to charities and good causes!, with our largest event being for over 1000 people! Your team can become part of that legacy!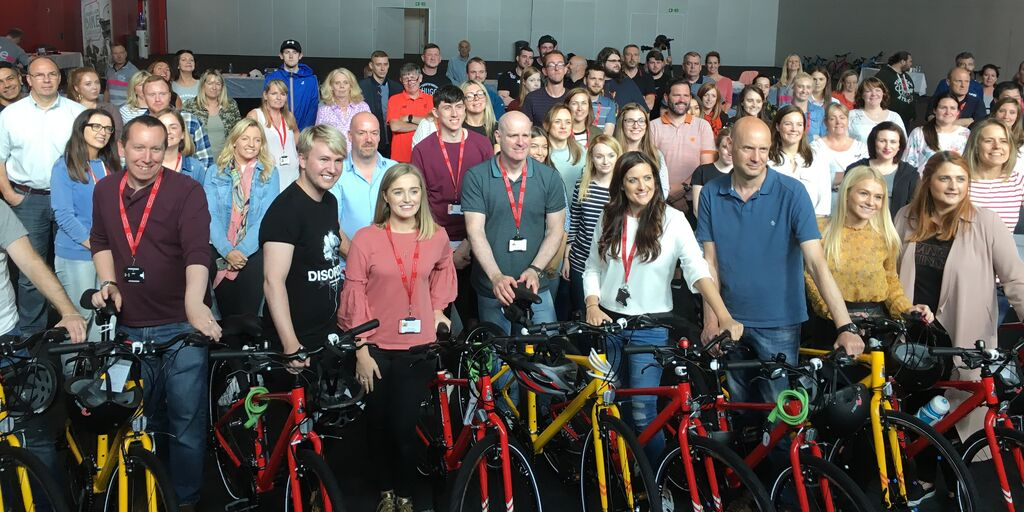 Your teams has about 2.5 hours to build their bikes, during which time they must take on several team challenges. Furthermore, they must 'get the knowledge', which will allow them to successfully build their bikes!  The challenges they face along the way, are cycling themed, including our Virtual Reality Racing game! This is where your teams compete to climb the fearful Alpe D'Huez, a classic Le Tour climb!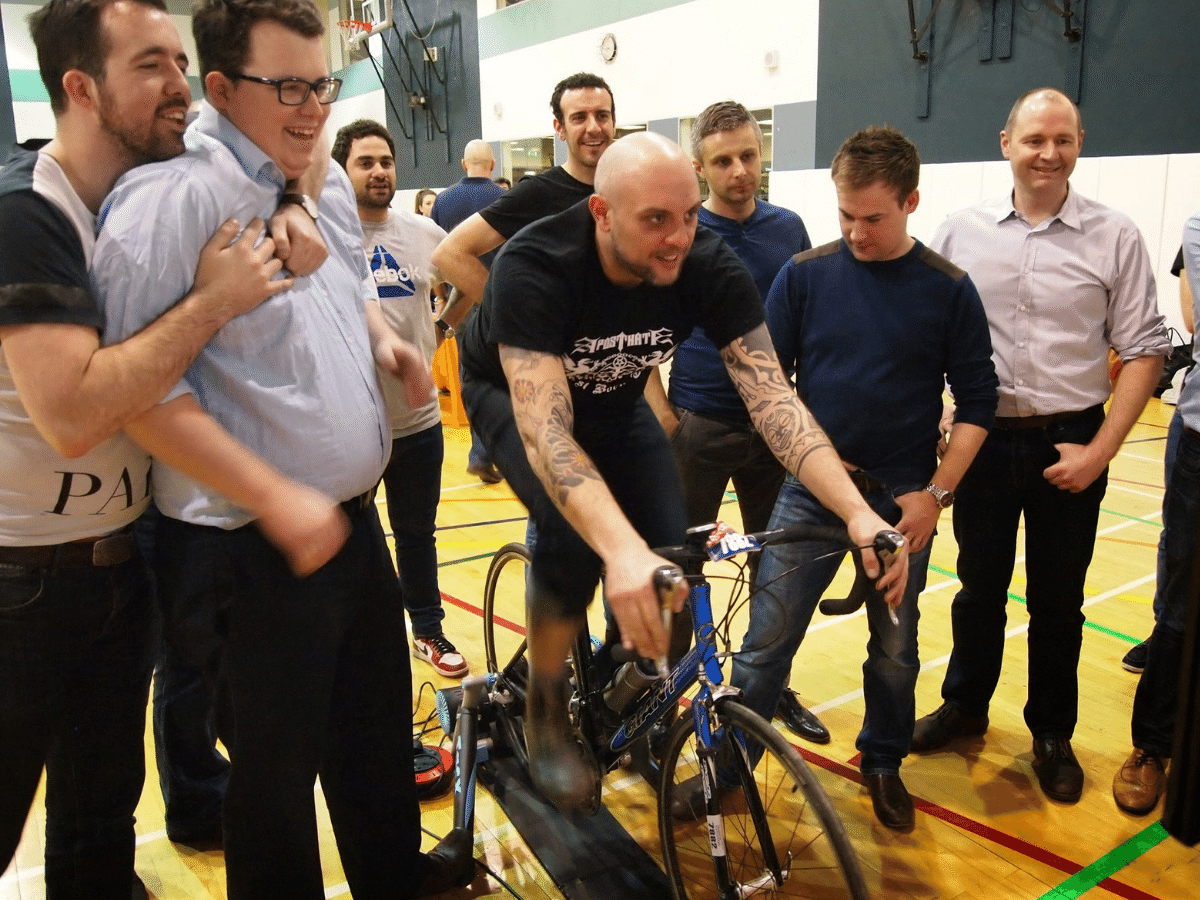 Once your teams are happy with the quality of their built bikes, they enter them for an MOT. Furthermore, their bikes are thoroughly examined and scored by our Charity Bike Build team! It is this score that tells us who the winning (and losing) teams are!
And don't worry, we do carry out a full audited pre delivery inspection before the bikes are passed to the new, delighted recipients!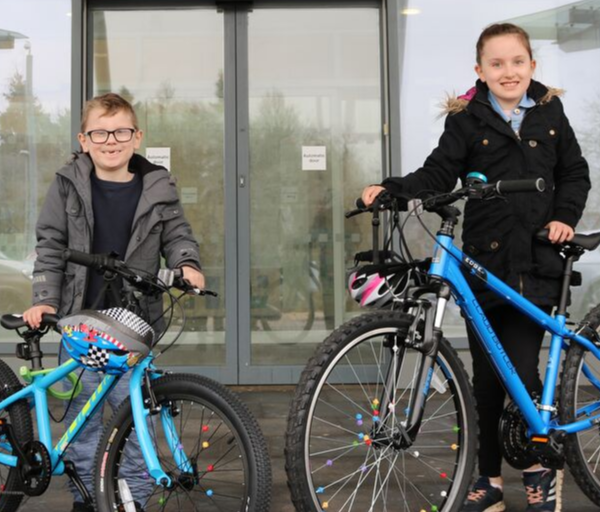 5. Boomwhackers
With an average duration of 5 – 30 minutes, music making through boomwhackers provides a high impact and extremely visual corporate team activity. Through the creation of vibrant music with a visual representation from colourful boomwhackers, this is a fun and engaging activity, which has a positive impact on the participants.
Boomwhackers are hollow, plastic, musical tubes, which are struck with the hand to produce a pleasing soft and mellow sound.  They come in different colours and each colour plays its own distinct note. Due to their size and shape, they can easily be handed out to tens, hundreds or even thousands of people in a few minutes to create an instant orchestra.
The facilitator divides one piece of music onto five different harmony parts (5 differently coloured boomwackers, divided amongst your large group). They then create a performance opportunity, through teaching the different rhythms and beats to each boomwhacker group. And when pulled together, your team will create some beautiful music!
Due to their immediate impact on the delegates and minimal disruption to the agenda, boomwhackers can be an ideal activity during an event since they can instantly change the mood and increase energy levels.
They can be used for groups 5 – 5,000 people and they are a great solution if your chosen venue is concerned about louder activities, such as drumming.
6. Drumming
With a flexible duration of 30 minutes to all day, drumming is a very popular large groups' team building activity. It promises a unique and unforgettable experience.
Starting off with the teams learning some basic drumming techniques, it will be hard to believe the final outcome when the combined sound creates an impressive performance.
The final performance is always uplifting, emotionally spectacular and it never fails to energise the participants.
Drumming can facilitate groups of any size and is suitable for many occasions, including conferences, corporate parties, meetings, and team building days.
7. OnBoard
Your team will art-work and build skateboards for charity! It's a simple, creative and fun event, which delivers real value to your local community.
Possibly o3e's fastest growing team building event, OnBoard delivers value to your business, your group and your community. The challenge lasts for around 2 hours and begins with a presentation from the charity. Creating an emotional bond with the charity, focuses the teams and boosts engagement with the event and with team members.
To give you an idea, a large group of 400 people, would create around 100 skateboards for charity.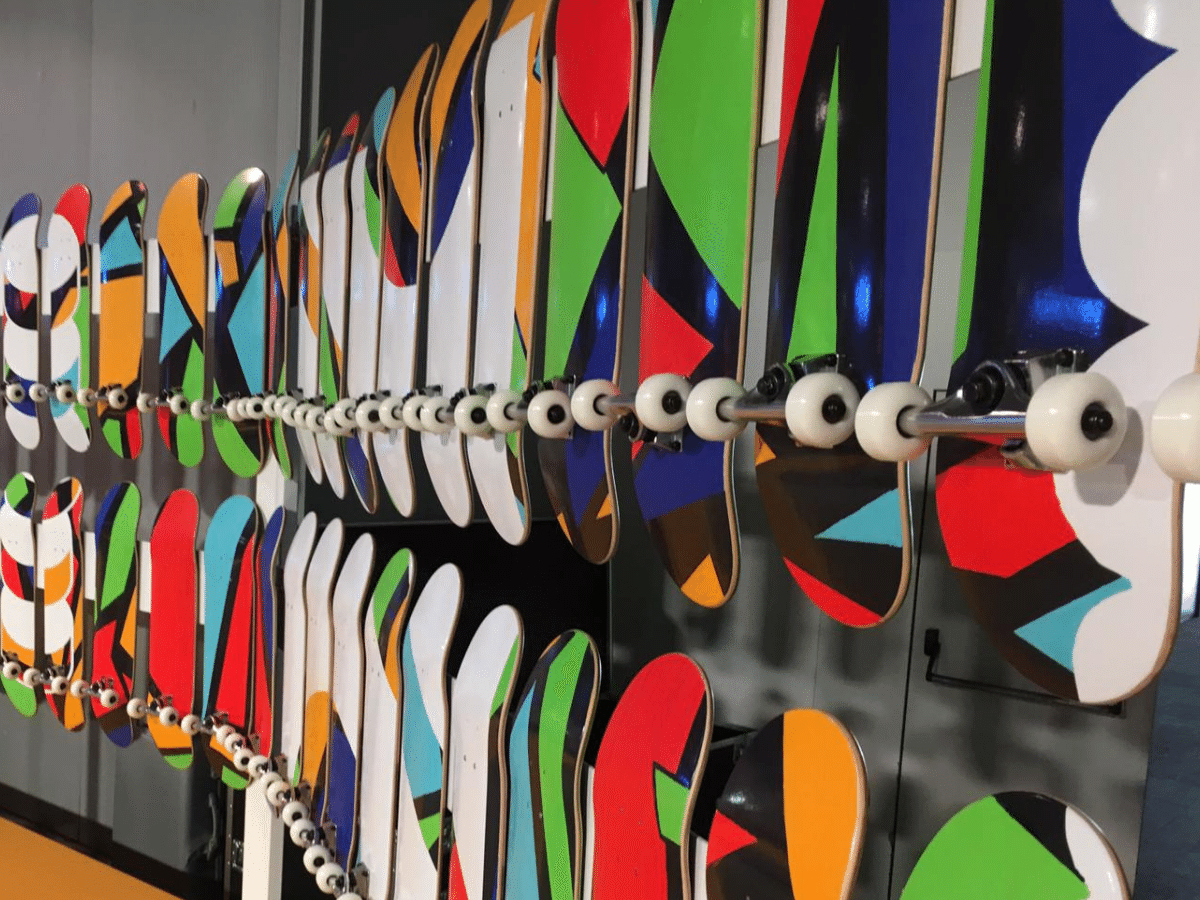 When the finished boards are all put together, the visual impact is stunning and the sense of achievement overwhelming.
The OnBoard event can even support large expos, as an engaging tool for the hundreds of delegates walking past your stand! Inviting delegates to sit down for 5 minutes and help you artwork skateboards for charity offers a unique opportunity to engage with your audience. This type of expo activity is far better for the environment and society too, than handing out free promotional gifts.  Click here to see how it works in practice!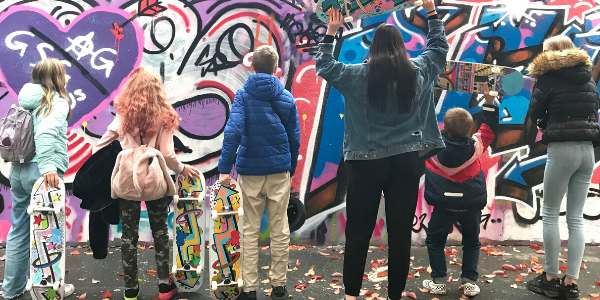 Once the artwork is finished, your teams are able to build the finished skateboards, assembling the truck, and wheels. O3e then donates them to charities supporting social inclusion, children in poverty and children with disabilities.
8. Clap Happy
Clap Happy is a great ice breaker or energiser, lasting between 10 – 45 minutes.  First of all, it guarantees your team a colourful, fun and energetic activity. Secondly, Clap Happy promises laughter and many surprises in a fast action session!
An expert facilitator will be lead your team to create a rhythm. This will support your team to create a clapping orchestra that relies on coordination, focus, communication and team work. Similarly to  the boomwhackers, there will be three 'clapping departments' and together they will create one percussive performance. Consequently, your team will need to give their full attention to both their own role, and to how it fits into the bigger picture.
Clap Happy demonstrates the importance of listening, focusing and supporting one another. In some circumstances, the facilitator will provide colourful rubber gloves, which add an impressive colourfully creative angle to the clapping.
The activity combines colour, fun, acoustics and teamwork, through something simple and distinctively human. It works well within a relatively short period of time, and as a result, it is easy to fit into a busy agenda. It is a perfect energiser in a long day!
Furthermore, clap happy is a very cost-effective event, as it only requires one facilitator and if requested, colourful rubber gloves. In addition, it can facilitate huge groups if necessary, with successful events being help for up to 5,000 participants!
9. Beatbox
A professional beatboxer with some jaw-dropping sound effects skills and a microphone is another fun option.
Beatboxing is a highly engaging activity, which easily fits into meetings or conferences. It's easily scalable for any size group, as  a result of its minimal set-up time. A fun and enlightening activity, which will really push your team's comfort levels and boundaries.
Typically set within a timeframe of 20 – 60 minutes, participants will usually be given a baseball cap and sometimes t-shirts to support a team spirit.  Your team then learns how to make the basic sounds required for a strong foundation in beatboxing, before moving on to more advanced beatbox variations.
Your team will find this experience liberating, as they must step well out of their comfort zones, typically creating a lot of fun and laughs along the way.
Once participants have got the hang of beatboxing, your team can create their own self-composed raps to perform. The finale is a head-to-head battle, where team's compete to be the ultimate winner. This activity guarantees a lot of fun and unforgettable moments.